Exported 3-4T/H Animal Feed Line to Malaysia feed mill for delivery
This customer from Malaysia purchased a 3-4t/h animal feed pellet production line. Host includes feed hammer mill*37KW, feed mixer*500kg/batch, packing machine and other auxiliary equipment.
Main Features
1) Simple structure in linear type ,easy in installation and operation.
2) Adopting advanced world famous brand Siemens motor for the main machines, such as the hammer mill, mixer and pellet mill.
3) The dimension of this Chicken Feed Pellet Making Line is about 9*5*12m(Length*width*height).
4) Running this Chicken Feed Pellet Making Line needs about 3to 4 persons. And their responsibilities are as follows:
1 or 2 persons working at the feeding section;
1 person takes care of the pellet machine and watches the control panel
1 person works at the packing section;
5) This Cattle Poultry Feed Plant can make different kind of animal feed pellets, not only the chicken feed, but also the cattle feed, sheep feed and other kind of pellet feed or powder feed.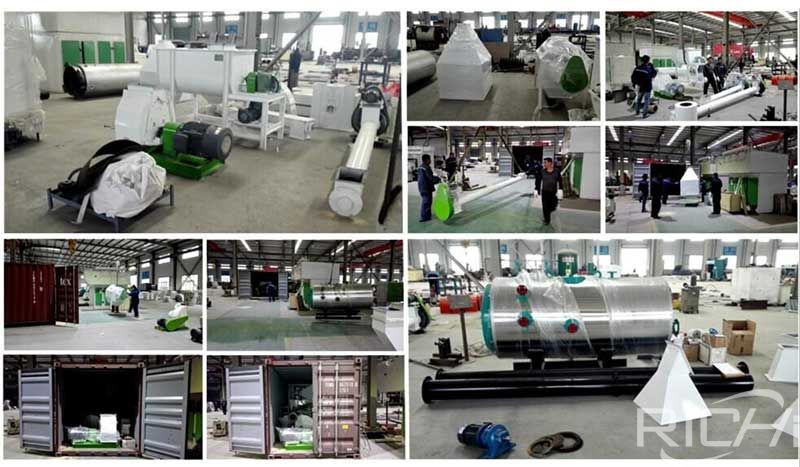 Malasiya 3-4T/H Animal Feed Pellet Production Line Equipment to be shipped
Why choose 3-4T/H Feed Pellet Processing Plant?
1. they don't have enough experience in making poultry feed, but they have know enough knowlege about how to raise chickens, which is more convincing when they sell the pellets.
2. The capacity is not big, which can fulfill their requirement for their own farm use, reducing the cost; and the capacity is not too small, take 10 hours working per day, the output for one day is about 30 to 40 tons, which means at least in the 10 years, the capacity of this Cattle Poultry Feed Plant can meet the requirement of the market;
3. The total invest for this Cattle Poultry Feed Plant is not big, which also reduces the risk.
The above is the article for you: Exported 3-4T/H Animal Feed Line to Malaysia feed mill for delivery. If you are interested in our products or project solutions, please contact us. We will give you the best product quality and the best price. Email: sales@cnrichi.cn