NEWS
Industry News
Follow Richi Machinery trends, collect industry information, and discuss market focus.
Global biomass wood pellet market outlook in 2020 - Industrial wood pellet market
Date: 2020-01-29 09:00:28
From: www.pellet-richi.com
Clicks:
Industrial wood pellet market
In most regions, the industrial wood pellets market is driven by policies to reduce carbon emissions and renewable energy generation. Many countries have enacted policies to support decarbonisation and the use of renewable energy for power generation; other countries are expected to follow suit. These policies have consolidated the industrial wood pellet industry. Industrial wood pellets are a low-carbon renewable fuel that can easily replace coal in large power stations.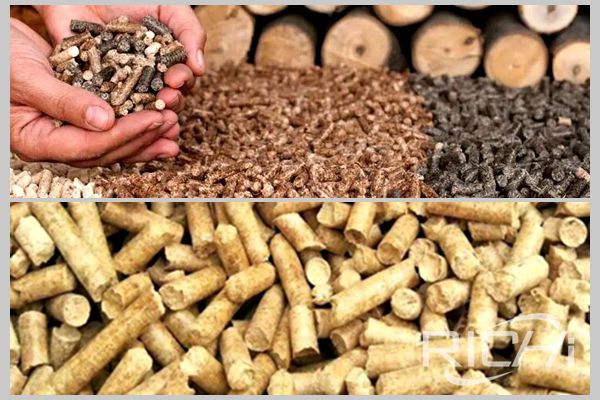 Biomass wood Pellet
There are two ways to replace coal with particulate fuel: full conversion or co-combustion. During the entire conversion process, the entire unit of the coal-fired power plant was converted from burning coal to burning wood particles. This requires the coal mill to be retrofitted, and possibly also the boiler burners. The use of a greater proportion of any biomass-derived powdered fuel also requires that the tempering temperature of the primary combustion air that transports the powdered fuel to the burner is below the typical temperature of 100% coal. It is inevitable to build a heat exchanger to transfer the heat of the combustion air to the water system to avoid reducing the efficiency of the power plant, but the cost is relatively modest. Co-combustion refers to the mixed combustion of wood pellets and coal in coal-fired power plants. It may be one of the most effective ways to achieve renewable energy and carbon reduction goals. At lower wood chips co-combustion ratios, minimal changes to existing pulverized coal facilities are required. In fact, in the case of a low blending amount of wood pellets (below about 7%), no modification is required.
Recent advances in "advanced" waterproof particles made by steam explosion heat treatment technology will significantly reduce the cost of power plant retrofits and will eliminate the need for dry fuel storage solutions. Compared with traditional wood particles, the use of advanced particles can achieve a higher co-combustion ratio at a lower cost.
The following table shows the historical demand and future demand forecast of the industrial wood pellets market. Total demand in 2019 is expected to be about 21.6 million tons. This is equivalent to the daily capacity of a 65,000-ton Panamax cargo ship. Please note that this demand forecast is based on current policies.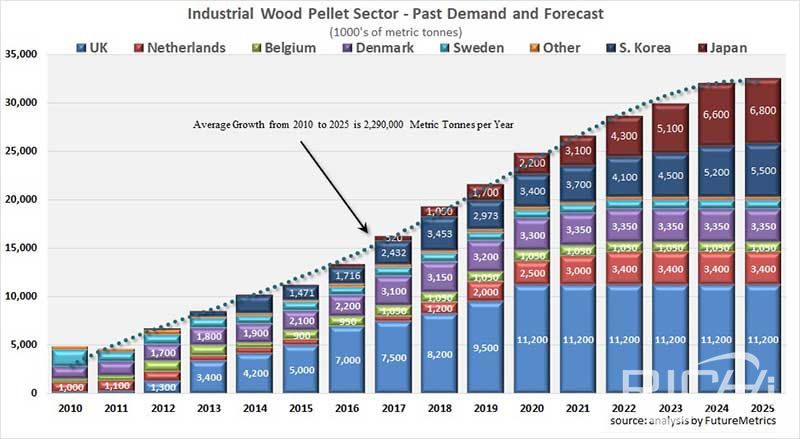 Industrial wood pellet sector-past demand and forecast
As shown, future demand in the UK and EU is expected to stabilize in 2021. However, by 2024, sales in Japan and South Korea are expected to increase significantly. From 2010 to 2025, the demand for industrial wood pellets will increase by about 2.3 million tons per year on average.
As mentioned above, this forecast is based on current policies. As the impact of climate change accelerates, policies may change. FutureMetrics predicts that by the mid-1920s, even the United States will have policies to reduce carbon emissions. Using particles as a substitute for pulverized coal, its application in large pulverized coal power stations has proven to be an economical and reliable solution to reduce carbon dioxide emissions.
The above is the article for you: Global biomass wood pellet market outlook in 2020 - Industrial wood pellet market.
If you are interested in our products or project solutions, please contact us. We will give you the best product quality and the best price. Email: enquiry@pellet-richi.com