NEWS
Industry News
Follow Richi Machinery trends, collect industry information, and discuss market focus.
French Alfalfa Grown as High-protein Horse Feed
Date: 2020-10-03 08:39:50
From: www.pellet-richi.com
Clicks:
---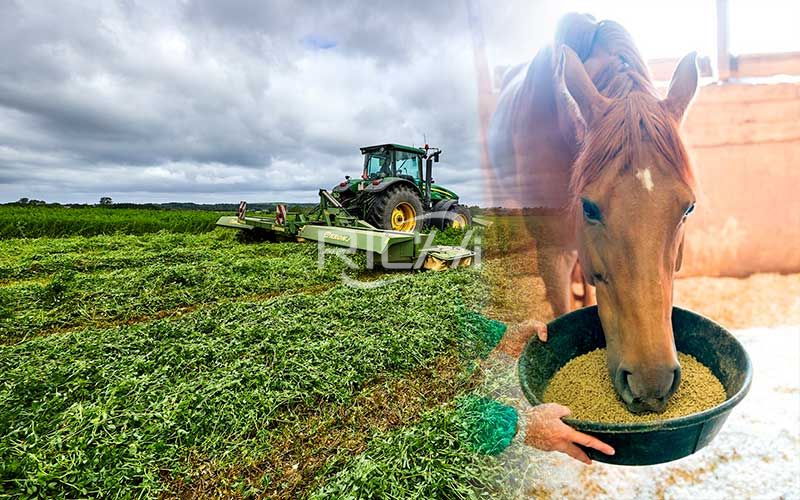 French Alfalfa Grown as High-protein Horse Feed
Also known as lucerne, alfalfa belongs to the Leguminosae family and has been used as a fodder feed for cattle and horses for centuries. The word alfalfa is mostly used in North America and parts of Europe but lucerne is more widely used in the UK, South Africa, Australia, and New Zealand. At first glance the plant looks a lot like clover with its three pronged leaf structure. It also has clusters of small purple flowers which are followed by fruits spiralled in two to three turns containing up to 20 seeds.
Many people know that alfalfa lucerne pellets are high-quality feed for cattle and horses, but do not know how alfalfa pellets are produced. First, the production of alfalfa pellets is not just a single grass/alfalfa pellet machine. He needs alfalfa Lucerne crusher, feed mixer, Lucerne pellet machine, cooling system and screening system. The alfalfa pellets produced by such a perfect alfalfa pellet production line equipment can be packaged or directly fed to cattle, sheep and horses.
French Alfalfa Grown as High-protein Cattle and Horse Feed
France is one of the major producers of alfalfa and exports the crop after drying it, to a number of different countries, some of which are affected by hot temperatures and long spells of drought. France itself was also affected by drought for the past 2 years and as a result many farmers decided to grow alfalfa as the grass was not growing. Around 80% of the alfalfa in France is grown in the main farming region east of Paris but in all of France 10,000 farmers grow the crop for themselves or for various drying plants operated by co-ops.
In a good year up to 4 cuts of alfalfa can be taken annually with a yield of 14 tonnes per hectare from the first cut. That average yield falls with each cut that follows. One of the main advantages of alfalfa is that it contains 2,400kgs of protein per hectare which is much higher than soya at 1,000kgs to 1,500kgs of protein per hectare. Alfalfa gains its high content of nutrients and vitamins due to its deep root system that can extend to over 20 feet deep taking in nutrients unreachable by normal root systems. Managing the crop uses very few herbicides and in France it is all non-GMO. Around 7% of the total production is farmed organically and this figure is growing rapidly. Alfalfa is normally dried after harvesting to produce high quality bales or pellets for livestock. This year demand for bales across Europe was high due to the prolonged periods of drought. When the alfalfa is harvested the moisture content is around 65% so it is then sent to the dehydration plants to be dried in a rotary drying drum. Hot air currents at 150°C to 650°C generated by coal furnaces dry the crop to around 10% humidity before it is crushed to be made into pellets or sent uncrushed for baling.
Alfalfa Cultivation
Masset runs a 200 hectare farm of which 15% is used to grow alfalfa and the remainder for a variety of grain crops. He reports some of his grain yields fell this year due to the harsh drought period. "Our wheat yielded 9.5 tonnes per hectare this year, winter barley was 8.5 tonnes, rapeseed was around 3 tonnes and spring barley was 8 tonnes per hectare," Masset said. "Normally the alfalfa would yield around 14 tonnes per hectare but this year being so dry the average yield was down to 10 tonnes per hectare. We harvested each cut after 45 days of growth. When the alfalfa is dried it can sell for € 170 per tonne for the pellets and € 190 per tonne for the bales which weigh around 380kgs to 440kgs each," he added.
France Subsidies for Growing Alfalfa
Luzeal exports around 60-70% of the bales it produces to the Benelux countries, Switzerland, Germany and into Saudi Arabia. Farmers that grow alfalfa in France receive a subsidy from the European Parliament of around € 10 per tonne. In total, French farmers grow in the region of 67,000 hectares of alfalfa each year and receive approximately € 8 million in subsidies for it. "The future for growing alfalfa in France is very good," said Masset. "Over half the proteins required by livestock farmers in France are grown in France and alfalfa is a key component of that overall production. "As we saw this year with changing climates and a long drought period alfalfa was a vital crop to produce forage for not only French farmers, but those further afield also affected by dry or drought conditions. "There is obviously a big demand for alfalfa from dairy farmers due to the high nutrient value of the crop. However, there is a growing demand for alfalfa to feed horses as well. Alfalfa pellets are less dusty and are suitable for older horses that have problems with their teeth because the ­pellets require less chewing than hay," he said.
How to Make Alfalfa Pellets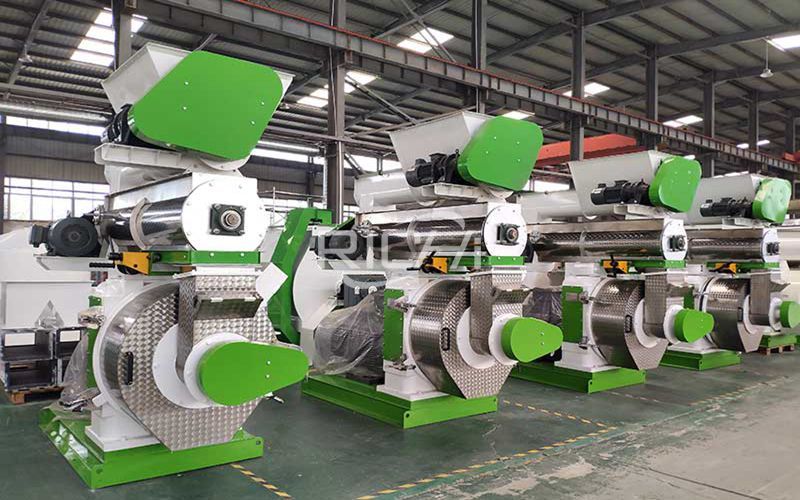 alfalfa pellet machine
Firstly, get your alfalfa pellet mill or pellet plant ready. If just for own use at home, a small pellet mill is enough. For a pellet plant, you can take a large scale machine and related equipment.
Secondly, prepare a dryer. As we all know, the wetter or dryer material will affect the final quality of biomass pellets, so you need a dryer to get the suitable moisture, which is always about 15%.
Thirdly, grinding alfalfa to get appropriate size for the alfalfa pellet machine.
Finally, put the alfalfa to the feeder of the alfalfa pellet mill.
The above is the article for you: French Alfalfa Grown as High-protein Horse Feed.
If you are interested in our products or project solutions, please contact us. We will give you the best product quality and the best price. Email: enquiry@pellet-richi.com
---