NEWS
Industry News
Follow Richi Machinery trends, collect industry information, and discuss market focus.
Indian petfood market set to grow leading to increased demand for pellet machine
Date: 2020-03-25 09:03:58
From: www.pellet-richi.com
Clicks:
With more pets, more pet food is needed, and the demand for pet pellet machines will also increase. With rapid urbanisation and an increase in nuclear families across the country, more and more people are keeping dogs as pets. As a result, many petfood, pet pharmaceuticals, grooming, toys and accessories companies have been recording growth. According to one estimate, India is home to 20 million pet dogs and this number is growing. Events are also being organised that focus on pet dogs. One such event took place was recently in Hyderabad at the Canine Club where over 500 dogs (more than 50 breeds including rare breeds, both Indian and foreign) plus 200 cats were showcased.
With 600,000 more pet dogs annually, the Indian petfood market is growing at a compound annual growth rate (CAGR) of 13.9% and will be worth USD$ 430 million by the end of 2020. Although other pets (e.g. cats, fish and birds) are also becoming popular in India, dogs remain the first choice for new pet owners. According to Euromonitor International, the size of India's petfood market was USD$ 297 million in 2019, compared to USD$ 186 million in 2016. This growth was spread across the country, and not just in the major cities of India. Speaking about this, the general manager for Mars Pet Nutrition India said that the increase in keeping pets, rising awareness of better nutritional profiles and lifestyle changes have encouraged Indian pet owners to feed their pets manufactured food.
US petfood market.
Mars International India holds 70% of petfood market
However, the Indian market is also growing. Various research reports reveal that the Indian pet Industry has a valuation of USD$ 300 million and is still not fully tapped into. Market leader in the Indian petfood market is Mars International India Pvt Ltd, which has a whopping market share of 70%. The company offers its low-cost products under the Pedigree (dog food) and Whiskas (cat food) brands as well as premium quality products for dogs and cats under the Royal Canin brand in India. Apart from this, the company is also reaching out to smaller cities, where the numbers of pet dogs are increasing.
In the USA, USD$ 62.75 billion was spent on pets in 2016, 30% of which was spent on petfoods. This figure is changing fast, as economists estimate that spending on US pet products is growing 50% faster than the overall retail sector.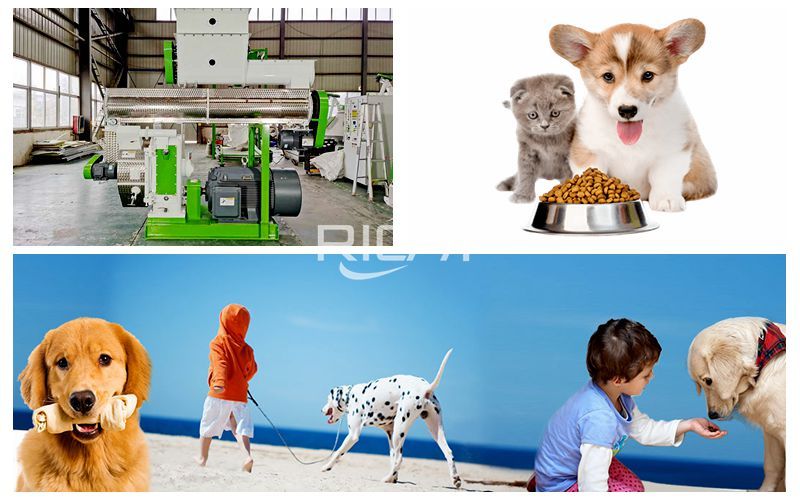 Indian petfood market set to grow leading to increased demand for pellet machine
E-commerce for petfood
With the success of e-commerce portals such as Snapdeal, Amazon and Bigbasket, petfoods have recorded tremendous growth. Petfood brands have posted 2-fold growth in sales in the pet-care category across all tiers despite the downturn. Walmart-owned Flipkart, which introduced a new category in 2014 with 10 verticals such as petfood, treats and accessories has now increased to 30 verticals. A report by Euromonitor International said that global dog-treat sales were worth USD$ 5.8 billion in 2012, a growth of 22% compared to 2007, while global cat treat sales grew 47% in the same period to reach USD $ 1.2 billion.
Competing petfood companies
Mars is competing with local brands such as PetSetGo, Drools, Bharat International Pet Foods, Agro Food Industries, Gitwako Farms, and IB Group, and is also looking to tap further into the pet-food market. Swiss food giant, Nestlé, is also looking to launch its own pet food under the brand name Purina. Even though the market for pets has increased, it is still far behind that in countries such as China, where a license fee of USD$ 42 has to be paid by all dog owners annually. In Germany a dog tax is levied and in the Netherlands owners have to pay tax on the number of dogs they have.
RICHI Machinery Co., Ltd. is a well-known manufacturer of granulators in China. We can provide not only granulator equipment, but also crushers, coolers and mixers. We can produce animal feed pellet production line and aquatic feed pellet production line. At present, Richi Machinery has served 93 countries, and has been favored and recognized by many customers. If you are also looking for pellet machine equipment manufacturers, please contact us!
The above is the article for you: Indian petfood market set to grow leading to increased demand for pellet machine.
If you are interested in our products or project solutions, please contact us. We will give you the best product quality and the best price. Email: enquiry@pellet-richi.com