NEWS
Industry News
Follow Richi Machinery trends, collect industry information, and discuss market focus.
10 ton of feed pellet production line area and plant height
Date: 2020-03-06 09:02:20
From: www.pellet-richi.com
Clicks:
We know that a complete feed pellet line requires a lot of equipment, and a 10-ton feed pellet production line is no exception. If a 10-ton automatic line is to be built, how much land is needed and how much is the height of the plant? There are two types of plant design drawings designed by RICHI Machinery for users: one is the design of an existing construction workshop, which is more complicated because the workshop already exists. It is not good to design the machinery and equipment. The other is that the plant has not yet been built. After designing the plan according to the production line, the plant is built according to the location of the equipment. This design is generally in place and perfect.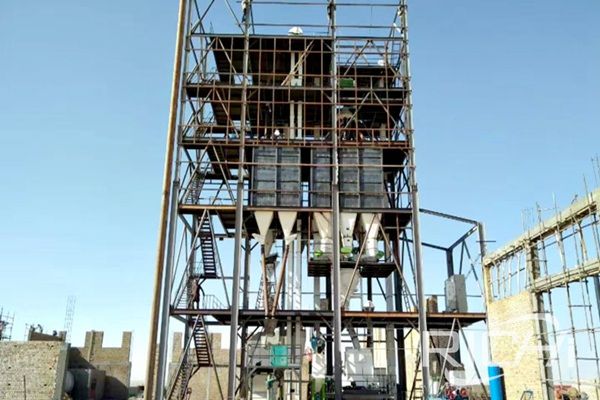 10 tons of feed pellet production line area and plant height
General equipment height of 25 meters,12 meters inl ength,width of 12 meters,Atotal of six floors.
The basement part, height is 4 meters, main equipment are: The bottom part of bucket elevator, buffer bin of hammer mill, air-locked screw conveyor, buffer bin of mixer, scraper conveyor,oil/liquid add in gsystem,air compress or system.
The first floor, heightis 4.5meters, equipment mainly includehammer mill,negativepressure system, mixer,cooling machine, autopacking machine.
The second floor, height is 10 meters, Main equipment are pellet machine, automatic batching scale, electronic control room, Cone bucket of proportioning bins,and outlet Screw conveyors of proportioning bins.
The third floor, height is 14.6 meters, the main equipment are group proportioning bins/silos, storage bins before hammer mill, storage bins before pellet machine,and storage bins for finished products.
The fourth floor , height is 17.17 meters, the main equipment are rotary distributor, transportation Pipes, observation holes of proportioning binsand air holes.
The fifth floor , height is 23meters, main equipment are head of bucket elevator, pre-cleaning device for powder raw material, prcleaning device for granule raw material, permanent magnet drum, rotary sizing screen, finished good inspection sieve.
1 ton chicken feed pellet production line case highlights
What sections are included in a complete feed pellet production line?
Application of Distillers Grains in Sheep Feed Pellet Production Line
The above is the article for you: 10 ton of feed pellet production line area and plant height.
If you are interested in our products or project solutions, please contact us. We will give you the best product quality and the best price. Email: enquiry@pellet-richi.com