RICHI latest cooperation project-a pig feed plant with an annual output of 300,000 tons is put into operation
The newly completed pig feed factory is very clean. The mechanical arm transports corn and soybean meal from the raw material warehouse to the conveyor in an orderly manner, and continuously transports them to the processing workshop. Two internationally advanced pig feed production lines pass through in an orderly manner. Crushing, batching, pre-mixing, granulating and other processes, the finished products are shipped out of the warehouse, loaded on vehicles, and transported to various pig breeding bases. Modern technological pig feed manufacturing process, full automatic operation......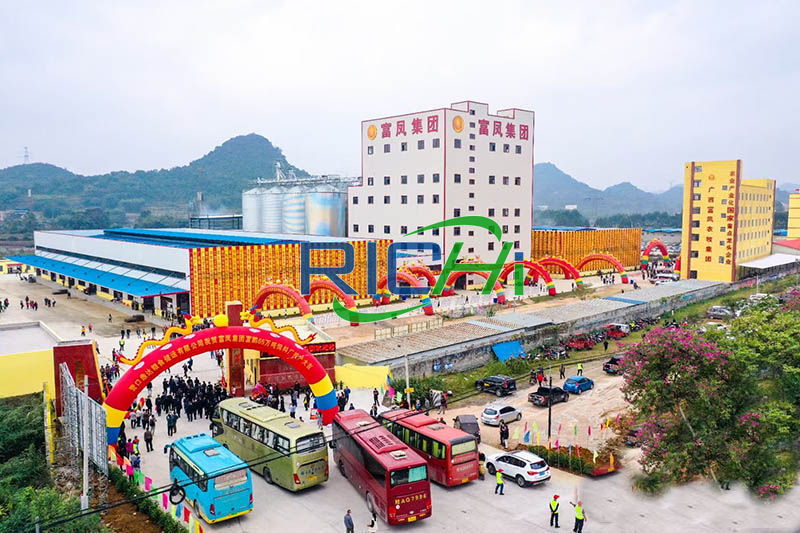 The 100t/h livestock feed plant project (50t/h per feed line) is divided into two sections, one is livestock feed production, and the other is pig breeding. Richi Machinery is responsible for the turnkey service of the pig feed mill.
Recently, after intensive assembly and commissioning, this in-depth cooperation project between RICHI and the customer, a pig livestock feed factory with an annual production capacity of 300,000 tons, was completed and put into use, which can realize bulk packing of raw materials, mechanization of loading and unloading, operation automation, process visualization, and achieve feed quality safety, the goal of safety production standardization, environmental protection and safety compliance, biosafety process, and high-efficiency staffing can meet the feed needs of customers for 1 million pigs in the Hebei base in China.
The first phase of a million-head pig breeding project that has entered the normalized production and operation stage, with 550,000 high-quality pigs on the market every year, with an annual output value of over 1 billion yuan, and an annual consumption of more than 400,000 tons of corn, which can drive corn growers to increase income by 17 million yuan. More than 600 jobs.   
In addition, regarding the pig breeding section of the 300000 tons/year livestock feed mill project, when selecting the site for the million-head pig breeding project, the project party proposed the construction of 3 breeding sites. In this regard, the project assistance team established an agent account, refined the division of labor, and clarified the time limit for completion. Early the next morning, the feasibility report of the selected 7 breeding sites was handed over to the project party, and the topography, landforms and surrounding villages of the candidate breeding sites were marked in detail. It only takes 2 hours to apply for a business license and complete all the approval procedures of the environmental impact assessment in 2 days.
It is understood that the site selection and preliminary preparations for the second phase of the pig breeding base covering an area of ​​2,000 acres are being accelerated; projects such as pig slaughtering and deep processing of meat products are also under negotiation.
The above is the article for you: RICHI latest cooperation project-a pig feed plant with an annual output of 300,000 tons is put into operation. If you are interested in our products or project solutions, please contact us. We will give you the best product quality and the best price. Email: sales@cnrichi.cn