Overview of the Algeria complete feed mill plant for poultry feed processing
Recently, the 2 sets of 5-7t/h complete animal feed production line project in Algeria, undertaken by Richi Machinery, has begun to enter the installation phase. And it is planned to be installed within 30 days. The Algeria customer is one of the well-known local poultry feed producers. The 10-15 tons per hour high quality automatic poultry feed mill purchased this time only needs to be used to process broiler feed. The production capacity of this Algeria poultry feed mill project can reach up to 15 tons per hour.(Since the customer has more than one broiler feed formula, the actual output will be between 10-15t/h.)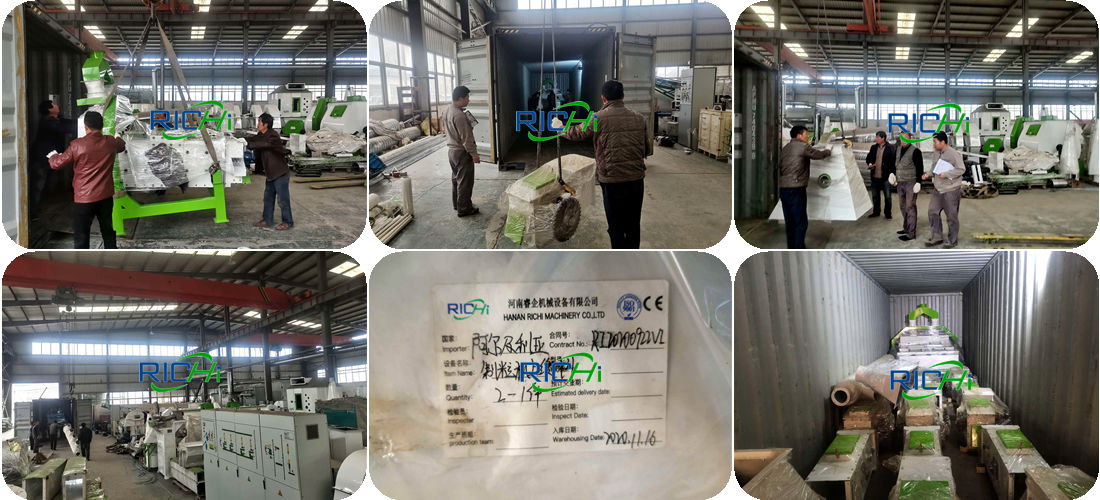 Equipment delivery of 10-15 tons full automatic poultry feed plant for sale Algeria
Pellet Richi, as a complete animal feed factory system solution provider with a strong sense of responsibility and capability, has undertaken more than 1,000 high-quality feed factories projects for domestic and foreign animal feed manufacturers. The Algeria poultry chicken feed factory project, which includes 2 animal feed pelleting lines and 1440 tons of silos(4*350 tons), is one of the typical medium-sized poultry feed mill project in North Africa.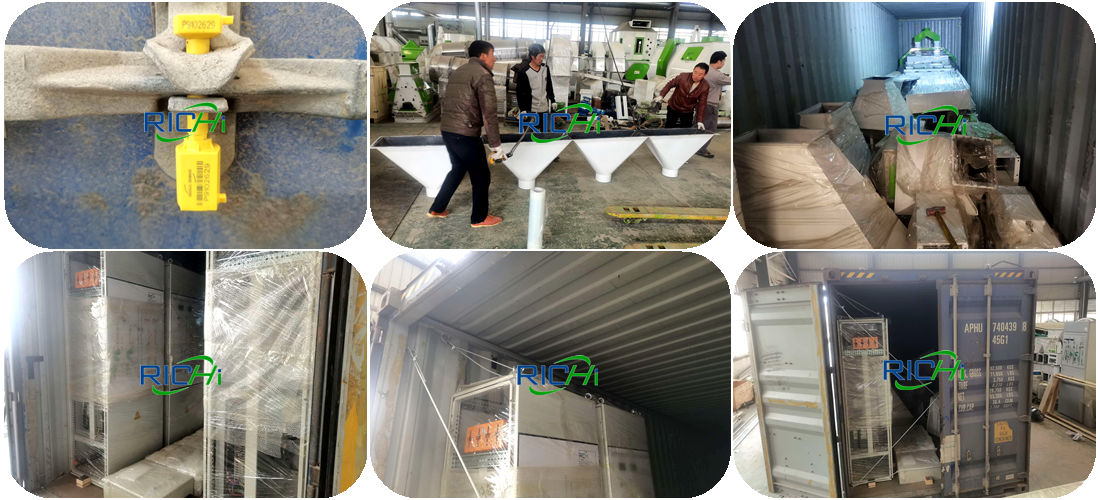 Equipment delivery of Algeria 10-15tph automatic poultry feed factory project
The whole set of 10-15 tons per hour animal feed mill machines of this Algeria poultry feed manufacturing plant project has made greater breakthroughs in function, material quality and service life of vulnerable parts, with advanced structure, stable operation and high degree of automation. We are very convinced that after being put into operation, the poultry feed processing plant will run smoothly, and will be highly praised by Algeria customer for its high efficiency, low consumption and safety.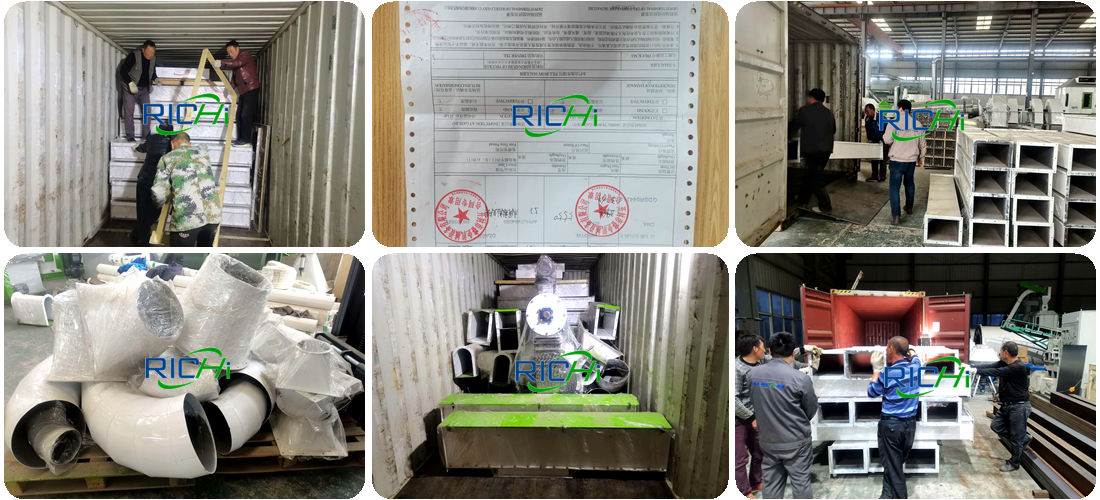 Equipment delivery of Algeria 10-15tph automatic poultry feed plant project
Poultry feed manufacturing process of this 10-15t/h poultry feed plant for sale Algeria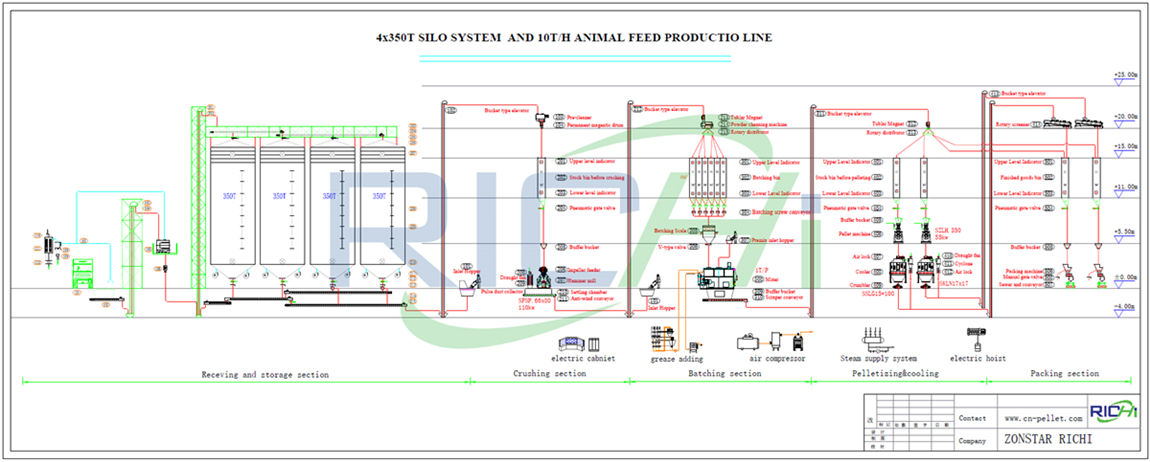 Feed mill process flow chart of the 10-15t/h poultry feed mill
Automatic poultry feed machine of the Algeria poultry feed factory 10-15t/h
Poultry feed machine details
Bucket elevator*TDTG36/28
Drum type precleaner*SCY63
Permanent magnetic sleeve*TCXT20
Poultry feed grinder machine*SFSP66*60
Pulse dust collector*TBLMa.24A
Screw conveyor (air-locked)*TLSS20
Rotary distributor*TFPX6
Permanent magnetic sleeve*TCXT20
Powder precleaner*SCQZ60*50*100
Batching scale*PLC0.5A
Outlet Screw conveyor*PLSS25/20
Small material checking balance*PLC0.1B
Poultry feed mixer machine*SLHJ1A
Scraper conveyo*TGSU20
Poultry feed pelleting machine*SZLH350
Cooling Machine*SKLN17x17
Poultry feed crumbles machine*SSLG15*100
Rotary screener*SFJZ100*2C
Automatic Packing machine*DCS-50(Include sewing machine+conveyor)
Heating oil storage tank*SYTZ100
Lack of skilled installation team is a major difficulty in the whole poultry feed mill project. Therefore, Pellet Richi arranged engineers and installation team from home to work with local workers to overcome difficulties, ensuring the poultry pellet feed plant installation quality.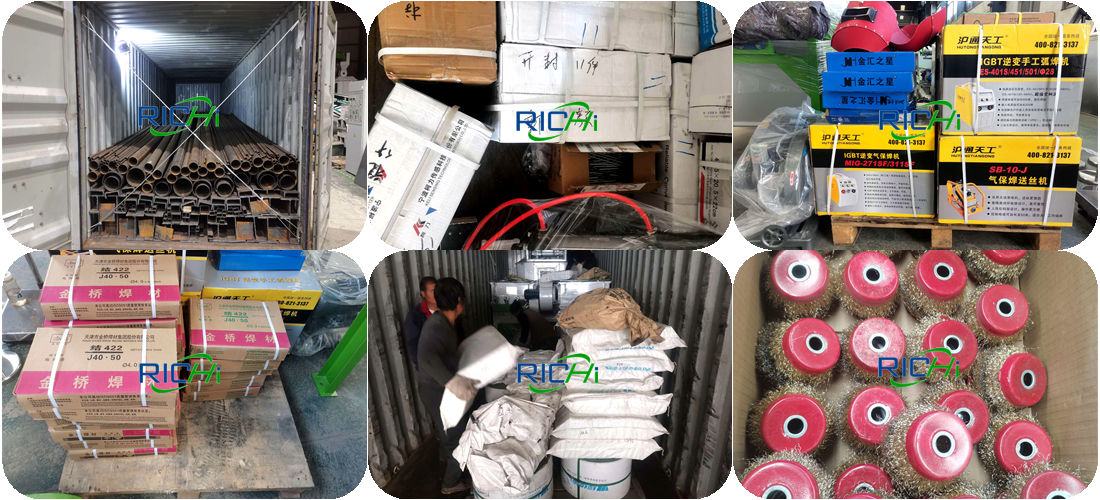 Equipment delivery of Algeria 10-15tph automatic poultry feed milling plant
Based on the animal food manufacturing industry, Pellet Richi — the professional animal feed plant manufacturer in China — has innovated and developed a series of technological animal feed plant machinery, with the sole purpose of producing feed products that are "safer and more nutritious, with higher-efficiency and lower consumption, greener and more environment-friendly", forging "feed mills with harvest and happiness.
RICHI feed mill for sale Algeria
As of the end of 2020, Pellet Richi has exported 4 complete animal feed production line projects to Algeria. The following is a list of these feed plant projects:
| Projects | Order date |
| --- | --- |
| 1-2T/H Feed Mill For Poultry And Livestock | 2018.4.8 |
| 2 Sets Of 3-5T/H Animal Feed Mill | 2015.9.31 |
| 1-2T/H Animal Feed Plant | 2019.7.23 |
| 2 Sets*5-7T/H Animal Feed Pelleting Plant+4*350T Silos System | 2020.8.28 |