Overview of high technology fully automatic poultry feed mill project in China
On the morning of January 4, 2019, the client poultry feed company and the People's Government of Shebu Town, Hunan Province, China signed the "Xiangtan Lihua Animal Husbandry Annual Production 180,000 Tons of Poultry Feed Factory Construction Project Investment Agreement", and signed a contract with Richi Machinery in June 2019 for the entire poultry feed mill plant project poultry feed making equipment.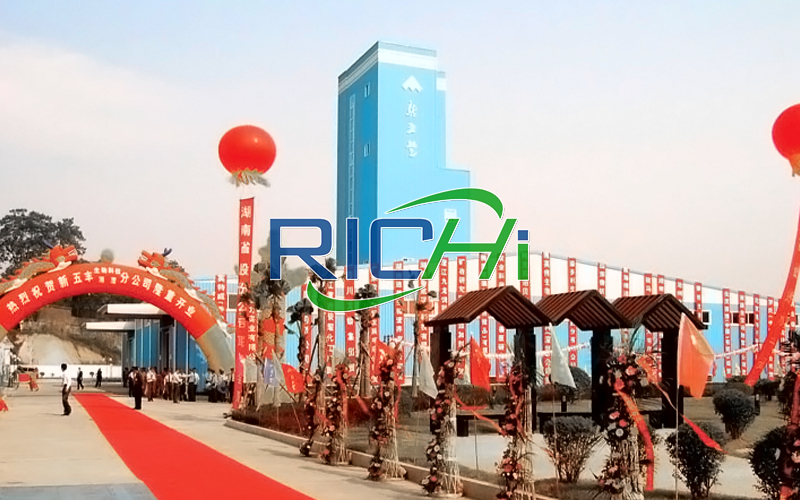 The total investment of this 38 tons per hour new build customized poultry feed pellet mill plant project is 80 million, of which the total investment in fixed assets is 60 million.
The large scale 38 tons automatic poultry feed manufacturing plant project plans to use about 50 acres of land for the construction of poultry pellet feed plant for broiler feed production, office, research and development and supporting houses. After the land is officially handed over, the turn-key poultry feed mill project has been completed and put into operation within 18 months.


Signing site and client's feed company headquarters
At present, the entire chain industry development model of "company + cooperative + base + farmer" of the customer's poultry feed factory has been formally formed in Xiangtan County. It has promoted the development of surrounding farmers by providing bases, feed, medicines, technical services, and insured recovery.
The speed of the adjustment of the agricultural industry structure and the broadening of farmers' income-increasing channels can solve the employment of more than 300 laborers in the 38 tons per hour reasonable design new poultry feed mill project area.
Customer's poultry feed company introduction
Xiangtan Lihua Animal Husbandry Co., Ltd. is an integrated chicken breeding company formally established on May 23, 2016 with full capital injection by Jiangsu Lihua Animal Husbandry Co., Ltd. It is the largest integrated chicken breeding company currently introduced in Xiangtan County. The poultry feed company of this large capacity poultry feed plant project has a good development trend and meets the needs of local industry development.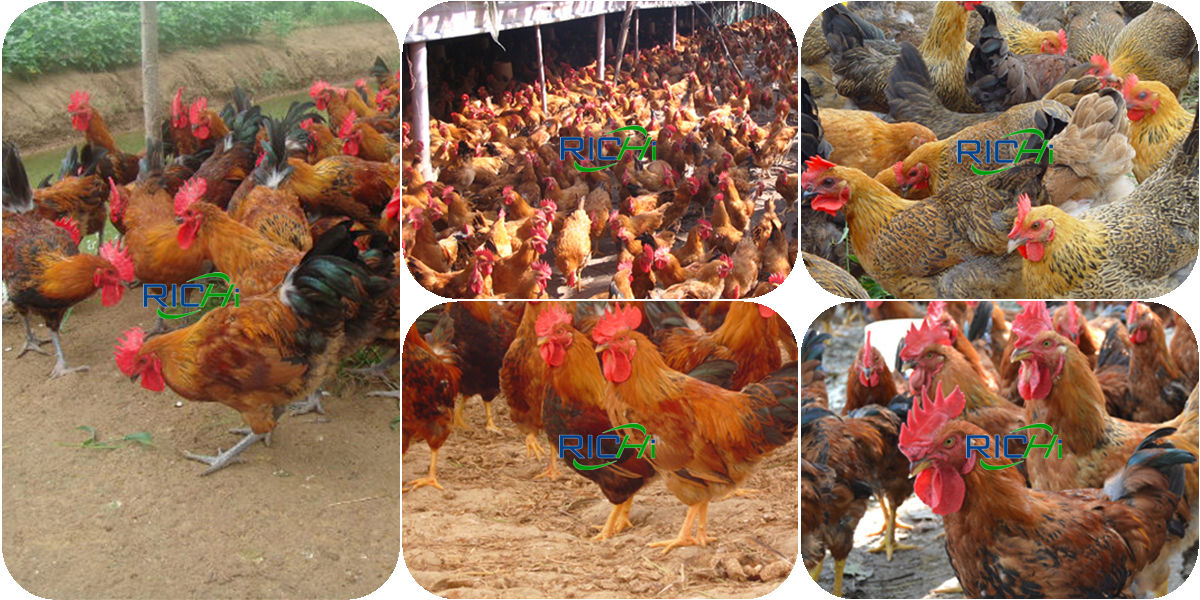 Chicken breeds of the client company
Risks can be effectively controlled. The implementation of the good quality poultry feed mill factory project will vigorously promote farmers' income. The entire industrial chain of the 38 tons full poultry feed mill plant project meets environmental protection requirements, and the site selection of the poultry chicken broiler animal feed pellet making plant project meets relevant national regulations.
The main products and production plan of the 38t/h customized poultry feed mill plant project
The large poultry feed mill factory project will produce 180,000 tons of chicken feed per year, which will be used as a
poultry feed production line
for the Lihua Animal Husbandry Chicken Project.
| Product name | Annual output | Package form |
| --- | --- | --- |
| Chicken feed | 180 thousand tons | Bag Pack |
Main poultry feed making process of the turn-key poultry feed pellet plant 38 tons per hour
The 38tph fully automatic poultry feed plant project uses corn, wheat, soybean meal, etc. as raw materials, and the poultry feed processing technology is processed into compound feed products after the raw materials receiving and cleaning section, crushing section, ingredient mixing section, pelletizing section, cooling section and finished product packaging section. (Check more details of this automatic poultry feed mill design)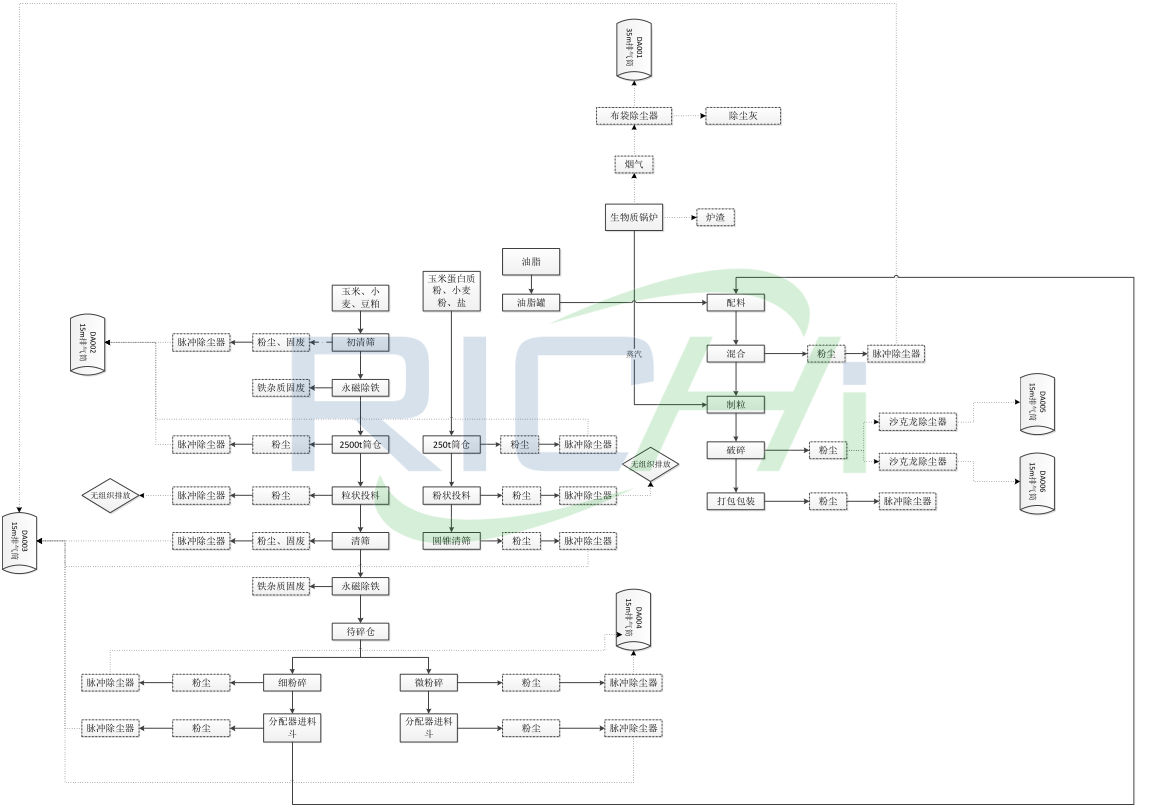 The original poultry feed manufacturing process flow chart we provide to our customers
Main production units and animal feed plant processing machine for 38tph customized poultry feed pellet mill plant
The production unit of this large capacity high return poutry feed plant mill project can be divided into raw material storage, raw material receiving in the main workshop, crushing, liquid (grease) addition, batching, mixing, granulating, and finished products. (Check more details about this 38t/h poultry feed manufacturing plant project report )
Production workshop
device name
Specification model
Quantity
Raw material storage
Sleeve silo for feed mixing
54 feet 12 rings, Φ16.38×H14.15m
5
Temperature and humidity measurement system
Digital cable type
1
Axial fan
T35-11№3.55A
5
Silo bottom fan
4-72-5A
10
Back-flip hydraulic flap
TQXH100
1
Scraper conveyor
TGSP32, TGSP25, L=9m~23.4m
14
Hoist
T600, H=19m
1
Double-deck cylinder preliminary cleaning screen
TCQYS100A-I
2
Gyromagnetic iron separator
MY80
1
Hoist
T600, H=35.8m
1
Pulse dust collector
LNGM40
2
Centrifugal fan
4-72-5A
3
Pulse dust collector
LNGM54A
1
Sleeve silo for feed mixing
21 feet with 9 rings, Φ6.37×H10.63m
4
Scraper conveyor
TGSP32, TGSP25, L=9.6m~15m
6
Grease storage tank
35t
6
Raw material receiving system in the main workshop
Pulse dust collector
LNGM18B
1
Scraper conveyor
TGSS25
1
Bucket elevator
T500
1
Cylinder preliminary cleaning sieve
TCQY100
1
Double roller electric permanent magnet drum
TCXD60
1
Rotary distributor
TFPX6-250A
1
Pulse dust collector
TBLMb4
1
Scraper conveyor
TGSS20
1
Bucket elevator
T400
1
Cone powder sieve
SCQZ90X80X110A
1
Double roller electric permanent magnet drum
TCXD60
1
Distributor
TFPX10-250A
1
Pulse dust collector
TBLMb4
1
Smashing system
Pulverizer impeller feeder
TWLY100
1
Poultry feed grinder machine
SWFP66*100
1
Pulse dust collector
LNGM63
1
Screw conveyor
TLSSF32
1
Bucket elevator
T500
1
Distributor
TFPX12-250A
1
Pulse dust collector
TBLMb4
1
Pulverizer impeller feeder
TWLY36D
1
Water drop electric feed grinder
SFSP132*36
1
Pulse dust collector
LNGM30
1
Screw conveyor
TLSSF25
1
Bucket elevator
T400
1
Distributor
TFPX12-250A
1
Pulse dust collector
TBLMb4
1
Dosing system
Ingredients warehouse group
/
22
Large and small warehouse machines
TLSUW32, TLSUW25, TLSUW20, TLSUW16
22
Large, medium and small batching scales
2000KG/batch, 1000KG/batch, 1000KG/batch
3
Small material adding machine
TBLMB4
1
Mixed system
Double-layer high-efficiency poultry feed mixer
SJHS4D
1
Double-layer scraper conveyor
TGSSp32
1
Bucket elevator
T600
1
Double roller electric permanent magnet drum
TCXD80
1
Distributor
TFPX8-300A
1
Pulse dust collector
TBLMb4
1
Pelletizing system
Poultry feed pellet mill feeding auger
MUWL600B
2
Poultry feed pelleting mill conditioner
MUTZ600
2
Quality Keeper
STZL80
2
Poultry feed pelletizer conditioner
MUTZ600
2
China poultry feed pellet making machine
SZLH520
2
Poultry feed crumbles machine
MUSL24X165
2
Cyclone dust collector
/
2
Bucket elevator
T400
2
Classification screen
SFJH140X2C
2
Screw conveyor
TLSUS20
2
Scraper conveyor
TGSSp25
2
Self-cleaning pneumatic gate
ZMQP25*70
28
Scraper conveyor
TGSSp25
4
Finished product system
Finished product warehouse
/
4
Vibrating grading screen
SFJZ125X1
2
Buffer bucket
/
2
Double scale bucket belt feed packing scale
PSC50
2
Belt conveyor sewing machine
/
2
Pulse dust collector
TBLMY8
2
Bulk warehouse for finished products
/
20
Liquid addition system
Weighing liquid adding system
SYTC100
1
Intermediate tank
MSYG01
1
Utilities
Air compressor
SA-37A
1
Gas tank (0.8Mpa)
/
1
Biomass steam boiler
4t/h
1