Chicken feed pellet machine for sale Tanzania
This is a single chicken feed pellet machine for sale Tanzania——1-2t/h SZLH250 ring die pellet machine for poultry chicken feed production. This broiler chicken feed pellet machine project was sold on August 3, 2016. The Tanzania customer has his own broiler farm. Because they have been fed powdered feed before, the growth of these broilers is not very good. Therefore, after understanding the nutritional requirements of broilers in detail, he decided to purchase a broiler feed pellet making machine for making broiler feed.

Tanzania pellet mill machine 1-2 ton per hour display before shipment
His farm already has broiler feed grinding machine and mixer for broiler feed, so he only needs to buy a 1-2t/h broiler feed pellet mill to meet his chicken feed processing needs, make amount of pellets for broilers. The power requirements for this 1-2t/h chicken feed pellet machine for sale Tanzania project: 380V, 50HZ, 3 phases.
This 1-2tph automatic broiler feed pelleting machine project uses conventional chicken feed formulas such as corn and soybean meal to process 3.5mm pellets. A professional installation drawing of the 1-2t/h feed pelleting machine for broiler is delivered with this broiler feed granulator equipment.

1-2 Ton boiler chicken poultry feed making machinery packing before delivery
Is it better for broilers to feed pellets or powder feed in Tanzania?
As a product of the modern chicken industry, pellets are made by broiler chicken poultry feed pellet machines. The broiler feed pellet size can be adjusted to meet the needs of different chickens. Generally, the diameter of the early feed is 1~2 mm, and the diameter of the later feed is 3 mm. The broiler feeding industry in developed countries generally uses pellets.
Its biggest advantage is to ensure that all nutrients are balanced when the broilers eat the feed, and what they eat is the real complete feed. The broiler feed pellets made by chicken feed pellet machine can also improve the palatability, make the broilers eat more, it is easier to reach the nutritional indicators required by the production performance, and also reduce the waste of feed. Due to the high temperature during the broiler feed pelletizer machine pressing process, it is also a sterilization process for Salmonella and other bacteria.


During the chicken feed pellet machine processing of making chicken feed for broilers, the carbohydrates in the feed are gelatinized and the digestibility of the feed is improved. There are pros and cons. The high temperature during chicken feed pellet making machine processing can easily destroy certain nutrients, especially some vitamins. The improved method is to granulate first, and then spray the vitamins evenly on the surface of the broiler feed granules. Due to the additional process, the broiler feed making machine processing cost will be increased.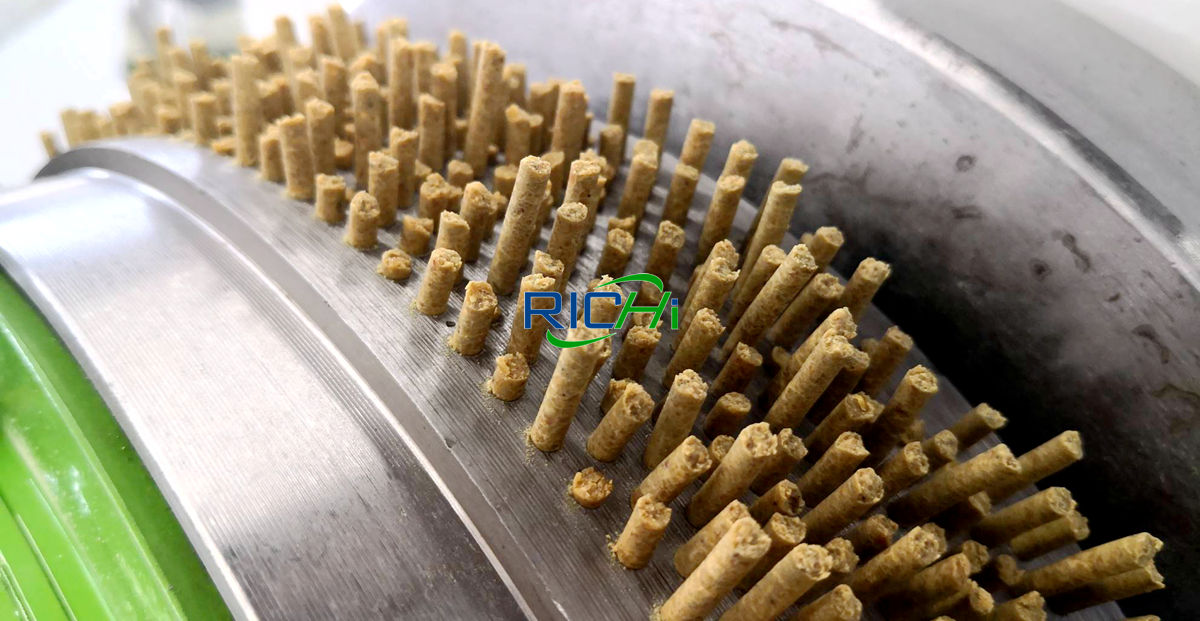 There are generally two feeding methods for powder, one is free intake of dry powder, or it can be mixed into wet powder and fed at regular and irregular intervals. The dry powder feed method is simple and suitable for large-scale breeding. There is no need to scrub the food utensils and the feed will not deteriorate, but it is easy to cause the phenomenon of uneven intake of nutrients. The feed is coarse and light, and the bottom feed of the chicken is less, which is easy to cause the problem of insufficiency of nutrients.

Another problem is that when longitudinal ventilation is used in the chicken house, there will be a lot of dust at the air outlet, which is also the reason for feeding dry powder. Wet mixing can promote more feeding, and can also be fed with green fodder, but it can only be used for small-scale breeding, and the feed trough should be scrubbed regularly to prevent feed deterioration, especially in summer, not to mix too much wet material at a time.


From the perspective of feeding science, pellets are good. But from an economic point of view, if self-mixing is used, feeding powder may be more beneficial than feeding pellets. In small-scale breeding, feeding wet mixes can overcome the shortcomings of inadequate intake of nutrients.
Types of SZLH series ring die broiler chicken feed pellet machine for sale Tanzania
Broiler feed pellet mill machine can be classified into two different types. You have flat die broiler feed making machine which tend to be cheaper to buy and ring die broiler feed making machine which although more expensive, will produce savings in the long run.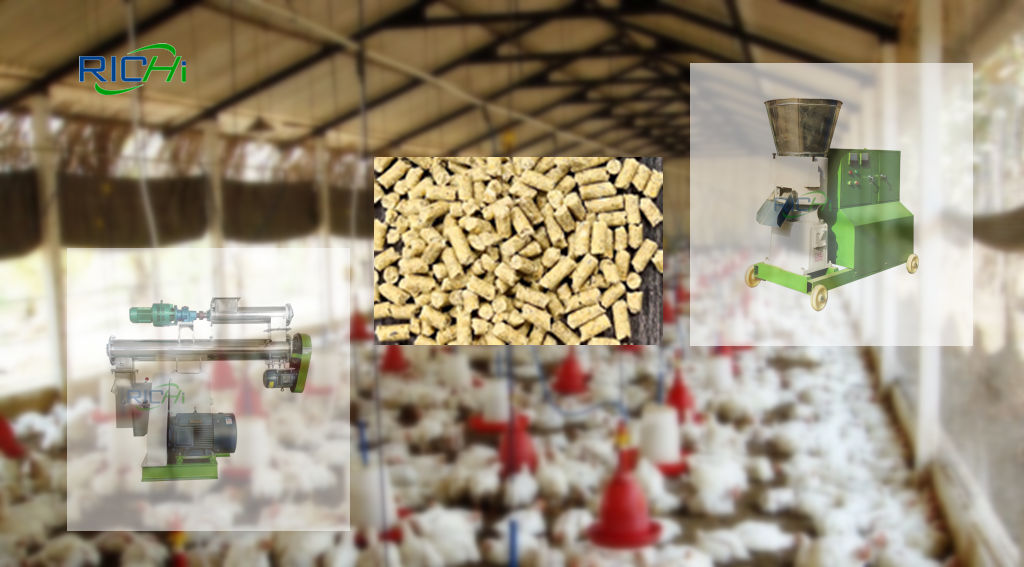 Flat die broiler feed making machines don't mix or grind and just take the powder already processed to create pellets. Even though this is considered a more modest setup, it is still able to produce up to 1000kg pellets per hour.
Flat Die Small Broiler Feed Making Machine Model
Capacity(KG/H)
Power (KW)
Pellet Size (mm)
Flat Die Small Broiler Feed Machine Price (USD)
FDF-125B
80-100
3
Φ2.0-Φ6.0
700-3500
FDF-150B
90-150
4
Φ2.0-Φ6.0
FDF-210
200-300
7.5
Φ2.0-Φ6.0
FDF-230
350-450
11
Φ2.0-Φ6.0
FDF-260
400-500
15
Φ2.0-Φ6.0
FDF-300
500-700
18.5
Φ2.0-Φ6.0
FDF-360
700-800
22
Φ2.0-Φ6.0
Ring die broiler feed pellet machines will use less energy for manufacturing the broiler feed pellets so will be a better long-term bet, suitable for poultry farms and poultry feed factories of all sizes. Steam is normally used in the high quality feed production to further the life expectancy of the equipment, whilst also upping broiler feed production rates at the same time.
Ring Die Broiler Feed Pellet Mill Model
Capacity(TPH)
Main Motor Power(kw)
Feeder Motor Power(kw)
Conditioner Power(kw)
Dia.of Feed Pellet Mill Die(mm)
Final Pellet(mm)
Broiler Feed Pellet Machine Price
SZLH250
1-2
22
0.75
1.5
250
2~12
7000-100000USD
SZLH320
3-4
37
1.5
2.2
320
2~12
SZLH350
5-7
55
1.5
3
350
2~12
SZLH420
8-12
110
1.5
7.5
420
2~12
SZLH508
10-18
160
2.2
11
508
2~12
SZLH558
15-25
180/200
2.2
11
558
2~12
SZLH678
20-30
220/250
2.2
11
678
2~12
SZLH768
25-40
280/315
2.2
11
768
2~12
SLZH858
25-42
280/315
2.2
15
858
2~18
List of animal chicken feed pellet machine for sale Tanzania
RICHI animal chicken feed pellet machine for sale Tanzania