Overview of 1-1.5 t/h small wood pellet factory in Moldova
2022.11.02, customers sent us inquiries:
"We are looking for a Pelleting Line with 1000-1500 kg/hour output.Semiautomatic ( 2-3 people ). Our main raw material will be bark and mixed sawdust and wood chips.
Kindly provide your available solutions and lead time to deliver them. The machinery should be exported and installed in Moldova.
Please include your costs for the installation as well. Let me know if any other details are required. Thank you and looking forward to your feedback. "
On December 15, 2022, the project was signed. Cost of this 1-1.5t/h small wood pellet factory in Moldova is 208,000 USD.
The client company specializes in the production and sales of biomass wood pellets. The client already has a 2-ton wood pellet production line. Based on the increasing demand for wood pellets, the 1-1.5t/h small wood pellet factory in Moldova project is new investment from clients.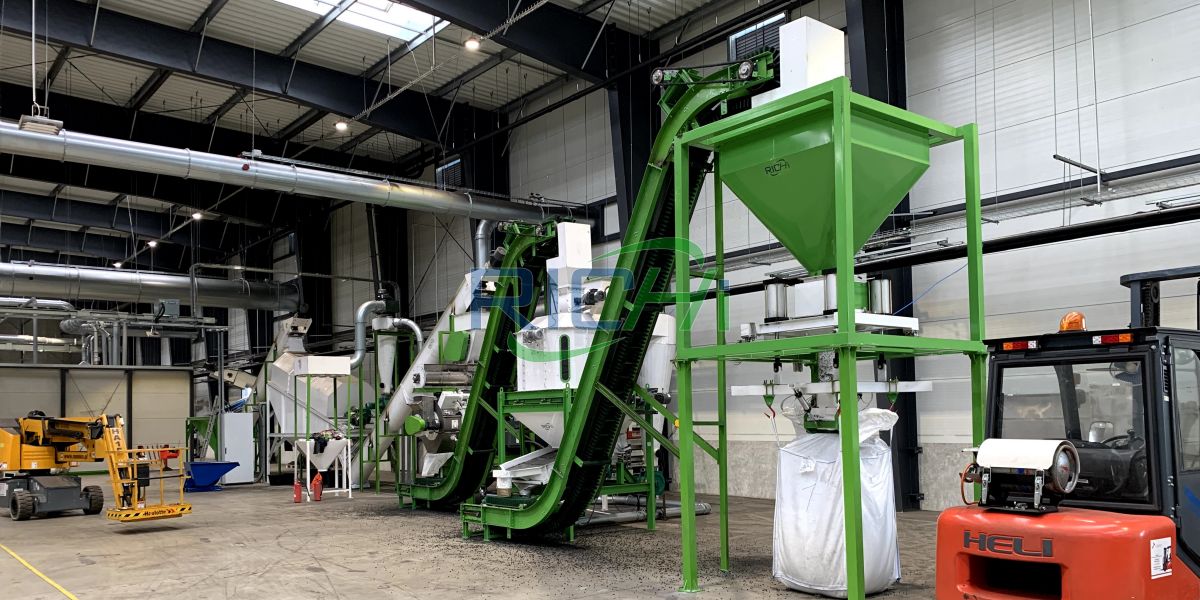 The 1-1.5t/h small wood pellet factory in Moldova project uses the existing factory building, covers an area of 1200m², and has a total construction area of 1000m². After completion, it will produce 2500-3000 tons of pellet fuel annually. The project uses the completed factory building, so the construction period is mainly for wood pellet equipment installation.
Labor quota and work system
The 1-1.5t/h small wood biomass pellet plant in Moldova project plans to have 10 laborers, all of whom will have board and lodging in the factory, work 8 hours a day, and work 300 days a year.
Project construction content and scale
The 1-1.5t/h small wood pellet factory in Moldova covers a total area of 1200m², with a total construction area of 1000m², including office, staff dormitory, material storage yard, product storage yard, and raw material processing area. The main The construction contents of the project are shown in the table below:
Name
Usage
Site area (m²)
Building area (m²)
The main project
Production plant
Processing raw materials
1200
300
Auxiliary project
Storage yard
Raw material, product yard
800
600
Office
For staff office
300
30
Consumption of raw and auxiliary materials
| Name | QTY (t/a) | Source |
| --- | --- | --- |
| Bark | 2200 | Outsourcing |
| Shavings, sawdust | 60 | Outsourcing |
| Construction wood waste | 250 | Outsourcing |

Equipment for 1-1.5 t/h small wood pellet factory in Moldova
| Device Name | QTY | Section |
| --- | --- | --- |
| Wood Chipper Crusher | 1 | Chipping |
| Wood Hammer Mill Grinder | 1 | Crushing |
| Wood Pellet Machine | 1 | Pressure forming |
| Packing Machine | 1 | Package |
| Conveyor belt | 1 | Transport |
| Bag filter | 1 | Dust removal equipment |
Process Flow Design of 1-1.5 t/h small wood pellet factory in Moldova
Crushing: The purchased raw materials are fed by the loader to the sealed conveying line, transported by the belt to the wood chipper and hammer mill crusher for crushing, and the crushed material with a larger particle size is obtained. The pulverized material <10mm, the pulverized material is sent to the closed warehouse by the closed conveyor belt for storage.
Pelletizing: The wood pellet mill press is the key equipment of the wood pellet fuel production line. The crushed raw materials pass through the wood pellet making machine in a closed environment to form finished biomass fuel pellets with a diameter of 8mm and a length of 20-40mm.
Packaging: The pressed and formed products are packaged after passing the inspection and transported to the finished product warehouse. The unqualified production row returns to the crushing production line for reprocessing.
Public works
Power Supply
The energy consumption of the equipment is power supply, which is uniformly supplied by the municipal power supply department, and the annual consumption is about 100,000 kW·h/year.
Water Supply
The water for the 1-1.5t/h small wood pellet factory in Moldova project comes from mountain spring water, and the total fresh water consumption of this project is 240t/a.
Drainage
The waste water produced by this project is mainly domestic sewage 216t/a, and the domestic sewage is treated in a three-stage septic tank to meet the dry farming standard and reused for surrounding mountain forest irrigation.
How to start a small wood pellet factory in Moldova?
Wood pellet factory is composed of a unit wood pellet making equipment. 1-1.5t/h small wood pellet factory in Moldova is suitable for small scale or medium scale wood pellet production.
Customers who have small scale wood pellet factory or newly open wood fuel pellet factory, prefer to choose this complete wood pellet production line. Wood pellet manufacturing plants are generally used for the mass production of wood pellets, providing objective benefits to your commercial pellet fuel business.


Since the small wood pellet factory in Moldova is made up of a variety of pellet manufacturing equipment, so it is necessary to consider a certain working space for placing a wood pellet production plant.
As the various equipment in the complete wood pellet production line is optional, a granulation equipment or a combination of more than one granulation equipment can also be selected according to the output, so it is better to choose the complete wood pellet production line from our technical experts according to your actual situation demand to develop solutions for your tailor-made wood pellet production system.
Standard wood pellet processing flow of small wood pellet factory in Moldova:
Raw Material Preparation
High quality virgin material is supplied as a combination of saw-milling co-products and on site chipping.
Initial Processing
This is the initial process to reduce particle size and especially screen out oversized material to improve the efficiency of the drying process.
Drying System
Material dries at an air temperature of more than 100°C reducing moisture content by up to 50%. Indeed, all the heat and electricity is provided from our on site biomass combined heat and power stations.
Wood Hammer Mill System
Particle size is reduced further in a dry material hammer mill, ready for pressing into ENplus® A1 quality wood pellets.
Wood Pelleting System
Material is extruded through the pellet forming die at a very high pressure to ensure the highest quality wood pellets. This process draws out the natural lignin in the wood which helps bind the material together. Moreover, occasionally a little natural binder may be added ed to improve the durability of the pellets.
Cooling and Screening System
We cool the pellets from approx. 90℃ to less than 40℃ – This ensures they are fully hardened and are then screened to remove all fines. Then we recycle all fines back into the manufacturing process.
Silos and Distribution
Then we store all pellets in on-site silos, ready for filling our dedicated pneumatic pellet delivery trucks.
Cost to start Wood Pellet Factory in Moldova: 50,000-3,000,000 USD. Slicers, shredders, granulators, dryers, coolers, screening machines, balers and other equipment are required to start a wood pellet factory. According to the different raw materials, the equipment configuration is also different, and the process flow will also be different.
We are wood pellet factory equipment manufacturer, we have complete wood pellet factory experts to provide technical service for you. Welcome to send inquiry to Richi Machinery, we are always here for you.