Overview of 2 tons per hour complete wood pellet production line for sale Netherlands
The wood pellet manufacturer in Netherlands of this 2 tons wood pellet production line project is aiming at the huge potential of the Dutch biomass pellet fuel market. Based on the customer's actual situation, we recommend a complete set 2 tph low cost high return wood pelleting line for the customer.
Netherlands is a highly developed country with a high degree of mechanization. Therefore, customer of this CE certified wood sawdust pellet production line have strict requirements for project investigation, supervision and quality services. The requirements of 2 ton per hour wood pellet plant project drawings are more elaborate than in the past. The wood pellet production process level and wood pellet production equipment performance must meet the relevant standards of the country, and It is required to provide a cross-sectional view and specific dimensions of each part.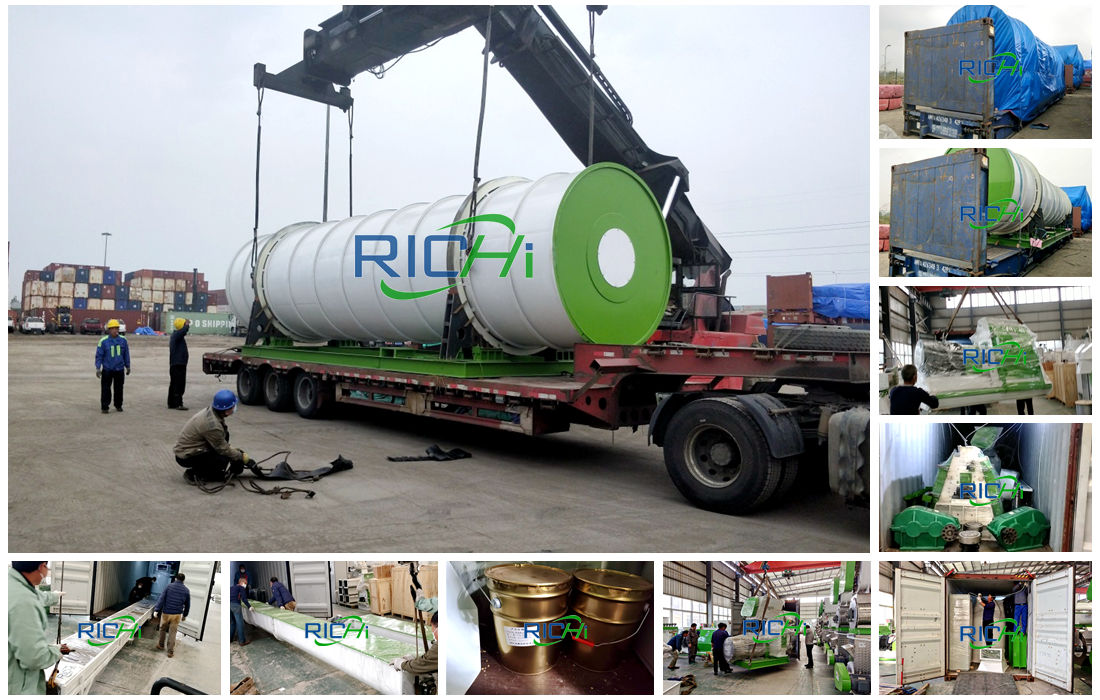 Delivery site of Netherlands wood pellet line with ce
Combined with the various needs of Netherlands customer, we finally customized a ce turn-key biomass wood pellet plant for customers, equipped with more than 20 sets of main wood pellet making equipment and auxiliary equipment. The configuration of this ce wood pellet mill plant ultimately reduced the power of 40 kw, while reducing operating costs for customers. In addition, the professional ce wood pellet line design from Richi Machinery can also save the conveyor length.
Design of 2T/H Wood Pellet Production Line in Netherlands
The 2T/H wood pellet production line process involves different steps that ensure the production of quality wood pellets. Want to learn how this 2t/h wood pellet line works? We have divided the whole process into sequential steps. Let's go through each step to make it more understandable for you!
Selection Raw Material It is one of the most important steps. The raw material should have good quality. Its quantity depends on how many wood pellets you want to produce. If you are producing wood pellets for personal use, then you can use your farm waste to make pellets.

If you want to make wood pellets on the commercial level or want to sell them in the market, then you can use wood waste obtained from numerous industries that supply wood residues.

But this wood waste will not be enough if you have a large wood pellet production line and have to produce wood pellets in a very large amount. You will use wood or branches for large scale production of wood pellets.
Sieving Section
If you doubt that your raw material will have contaminants like stone, plastic, or other particles then sieve the material to separate them.
Grinding Section
Material will be ground so that it has a very fine size that is needed for the production of good quality pellets. Wood chipper machines are used for this purpose.
Drying Section
Now the material will be dried so that extra water evaporates and only the needed amount is left behind. If raw material has more moisture content than the normal amount (8% to 10%), the wood pellets produced will not have high density and good quality. In this step, a wood drying machine is used.
Pressing Pellets
Now comes another crucial step. Wood pellet granulators are used in this step to manufacture wood pellets from the processed raw material. The material will be passed through the machine which will compress it and form pellets of different lengths and diameter.
Sieving and Packaging
This Netherlands 2t/h wood pellet production line project also connects the cooling and material recycling together, which greatly decreases pollution. Besides, cooling and sieving is realized by one equipment to reduce covering area. The wood pellet bagging machine also integrates computer-simulated electronic scale and compact heat sealing machine to realize efficient weighing, packing and sealing.

Before packing the newly formed pellets, they are sieved to separate the fine particles from the pellets. Once a high-quality product is achieved, it is packed into containers or packets so that environmental factors like moisture, etc. do not have any effect on the pellets.
Professional equipment for ce 2 tons per hour wood pellet production line in Dutch
| Wood pellet line machine | Model | Power(KW) |
| --- | --- | --- |
| Wood sawdust machine for wood crusher | SFSP 66*80 | 75 |
| Wood pellet machine for homemade pellets production | MZLH420 | 132 |
| Sawdust rotary dryer | ф1500*150000 | 15 |
| Cooling equipment | SKLN14*14 | 1.5 |
| Packing scale | DCS-50 | 1.5 |
| Auxiliary equipment | Model | Power(KW) |
| Cyclone | ф1000 | / |
| Pulse dust collector | TBLMa.36b | / |
| U-Screw conveyor | TLSSU30 | 3 |
| Bucket elevator | TDTG40/23 | 3 |
| Vibrating screener | TDZS63 | 1 |
| Belt and sewing machine | DCS-50 | 0.55 |
The scientific and reasonable sawdust wood pellet production line setting not only reduces the wood biomass pellet plant investment cost of customers, but also saves the maintenance cost of wearing parts. The typical advantage of this customized Dutch 2t/h wood pellet production line is the simple system and compact layout, which can greatly reduce investment costs.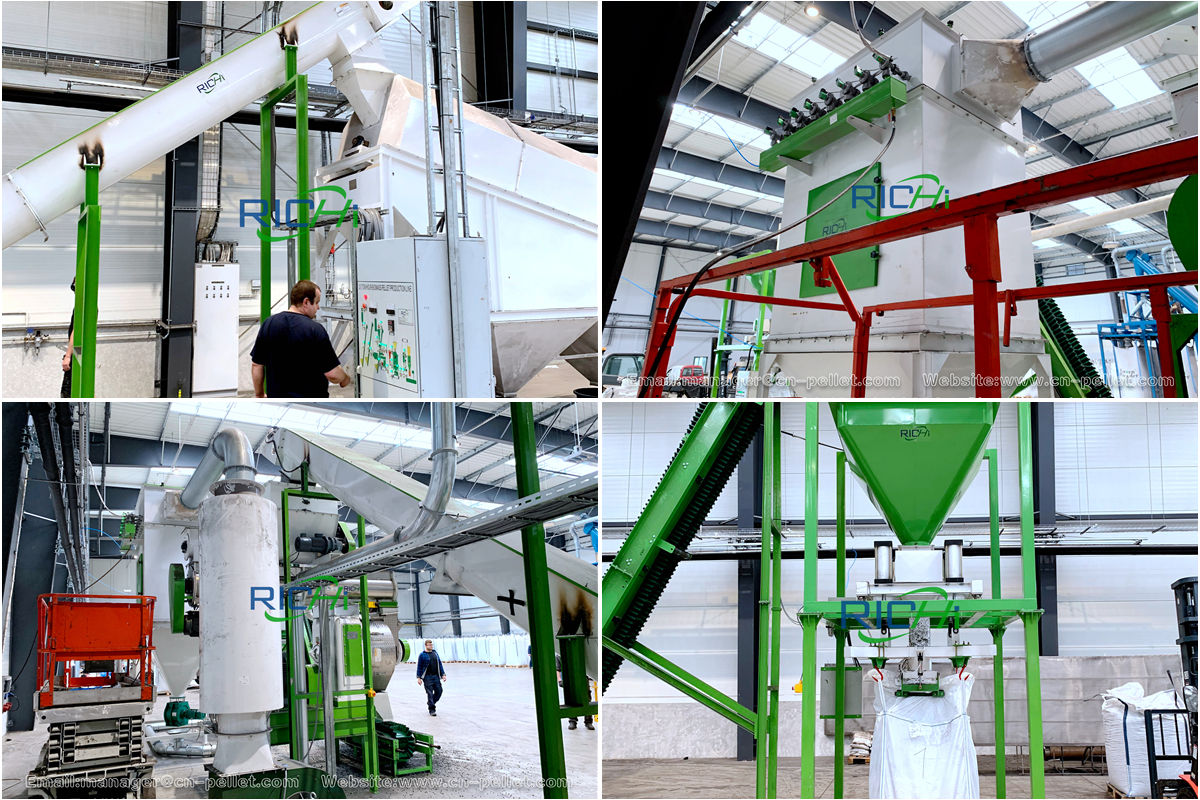 Wood pellet making process design of ce wood pellet production line in Netherlands
Equipped with automatic control system, it can realize remote control and easy operation. With the use of this 2t/h ce biomass wood sawdust pellet production line, the target market for wood pellet products is clear, and the demand is increasing year by year. Due to the good product quality, the product users are stable, the market sales prospects are optimistic, and customers are fully confident of rapid cost recovery and profitability.
Details Of Machinery to Setup 2T/H Wood Pellet Production Line In Netherlands
How to Set up 2T/H Wood Pellet Production Line In Netherlands? The full process of a complete wood pelletizing plant, from biomass raw material processing to final packing biomass pellet, includes crushing, drying, pelletizing, cooling and packaging processes. Each process has corresponding equipment.
We break down the process into three processes and take a look at what equipment need to buy if you are planning to investing on wood pellet production line in Netherlands.


Wood Chipping Machine: Making large wood like logs, tree limbs and trunks into <3mm thickness and 10-30 mm length wood chips.
Wood Pellet Hammer Mill: Crushing the material into powder and making raw materials to the right size (below 3mm) for pelletizing process.
Wood Sawdust Dryer: In general, the moisture content of raw material is still high after the pulverization from hammer mill, which is not suitable for pelleting. The dryer can make raw material moisture content to from 12% to 18%.
Wood Fuel Pellet Machine: Press the mixed raw material into regular shape pellets by high pressure between the main parts roller and die. It is the soul of complete biomass wood pellet production line. According to the raw material and production needs of customers, choose suitable biomass pellets making machine are very important.
Pellet Cooler: Pellet cooler is used to cooler the biomass wood pellets after pressed by the pellet machine. It is most commonly used in complete wood pellet production line.
Pellet Packing Machine: It can weigh and pack the cooled pellets automatically. 10-50kg per bag is available to choose.
Highlights of Netherlands 2T/H Wood Pellet Production Line
The remarkable feature of this 2tph advanced wood pellet production line is that it adopts material mixing process, which realizes the stability of raw material entering pelletizing chamber and guarantees the continuous and stable running of equipments.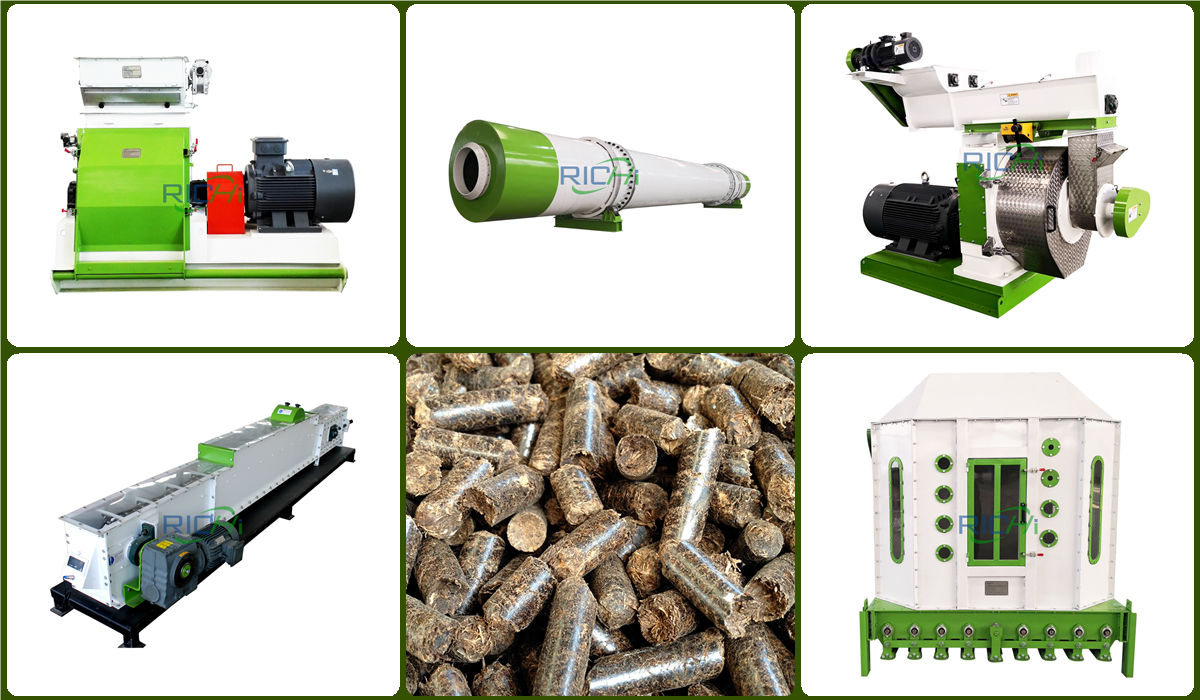 Compared to those pelletizing equipments made in USA or Germany, our wood pelletizing machines can endure a high material moisture content of 13-15%, so that customer can greatly lower the energy input in drying process, thus decreasing production cost.
Huge demand for wood pellet manufacturing in the Netherlands
In 2020, Dutch wood pellet imports reached a new high, totaling $511 million. The United States was the leading non-European Union (EU) supplier to the Netherlands. Wood pellet-generated energy is estimated to have accounted for approximately ten percent of total Dutch renewable energy use last year. In the future, the Dutch government will place more emphasis on the use of biomass for higher value applications.

Currently the government is in the process of implementing the EU's second Renewable Energy Directive (REDII) in Dutch Law, and is planning to add socio-economic criteria to the sustainability criteria of the REDII. It can be clearly seen that the wood pellet manufacturing business in the Netherlands is very promising because of the huge domestic demand.
The inevitability of the development of biomass wood pellet manufacturing in the Netherlands
The EU is the world's largest market for wood pellets. As one of the founding member states of the EU, although the Netherlands biomass industry started late, it has developed its own development model with its high technological content and small technological investment. Compared with the well-developed wind power industry in the Netherlands, its biomass industry is slightly inferior in fame, but its strength is unmatched.
Faced with the decline in output of the Groningen gas field and the political risks of Russian natural gas supply, the Netherlands took a different approach and vigorously developed the biomass energy wood pellets industry, making it an important natural gas supplementary energy source.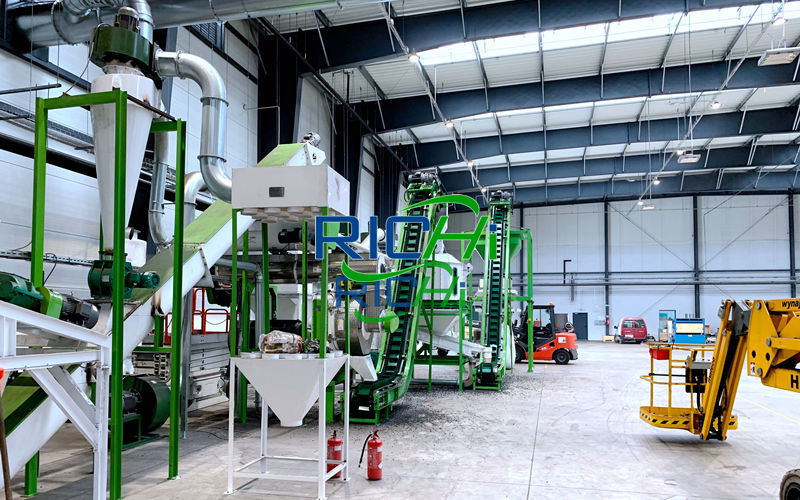 The Netherlands has a history as a major market for industrial wood pellets. A data released in March 2020 showed that US producers exported woody biomass pellets to more than 20 countries, of which the Netherlands ranked second with 94,119.1 tons. However, unlike Italy and Germany, the Dutch biomass fuel pellets are mainly used for electricity in power stations.
A report submitted by the Dutch government shows that biomass consumption in the Netherlands is expected to increase from about 1.8 million tons in 2018 to about 2.3 million tons in 2020.
Starting Your Biomass Wood Pellet Production Business
Driven by the vigorous development of new energy, biomass energy utilization has gained widespread attention, and the biomass power generation industry is flourishing, showing the bright future prospect. a dn with the obvious progress of products and industries, biomass pellet making equipment has been being used in many aspects of our life.


Tips on Building 2T/H Wood Pellet Production Line In Netherlands
Biomass wood energy has been the hot topic around the world, attracting more and more investors. Before starting wood pellet plant in Netherlands, you should make some preparation. Here are some tips:
Market Researching
Market decides if your biomass wood pellet production line can make profits and how much it will make. The first thing before building biomass wood pellet production line plant is to make market research. Such as, how many boilers can be used with pellets, how many people engaged in this industry, and if the local people know about biomass energy etc.
Raw Materials
In the biomass energy industry, who can take up the market if he has adequate raw material. Multiple kinds of raw materials can be used in biomass wood pellet press machine factory, like forestry waste, agro residues, living waste, animal waste etc. you should make sure the stable raw material resources.
Production Factory Setup
Building wood pellet production line factory in Netherlands is also important, which had better be close to the raw material resource. And the factory size should be decided in advance according to the scale of biomass wood pellet plant you want to setup.
Uses of wood pellets in Netherlands
Civil boilers, fireplaces, industrial boilers: Along with the policy transformation of boilers and other equipment in many provinces and regions, coal burning is prohibited.
Wood pellets made from wood pellet plant or biomass pellet factory are a good choice. So there is a market where boilers are used, such as chemical, paper, bathing centers, heating units and so on.
Power generation plant.Biomass power generation has been developing rapidly in recent years, wood pellets are also a clock option, so you can go to the local power plant to see the market.
Other uses, such as hardware baking paint, grain drying, baking tobacco, smelting financial aluminum, very wide.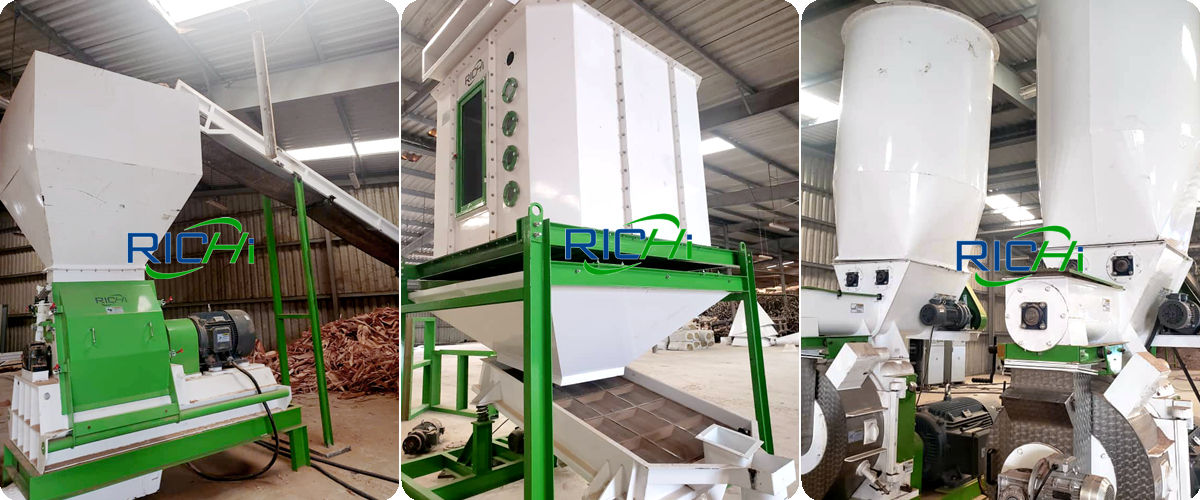 The uses of wood pellets made from wood pellet production lines are very wide, the most common is the boiler, now a relatively large piece of the market. The biofuel market has a broad prospect, waiting for your development. When you have plans to start investing in a biomass wood pellet plant for biofuel wood pellet production business, please contact Richi Machinery for more information, we are always for you!
Depending on our years of experience, Richi Machinery divide biomass wood pellet production into many types. And our complete 0.3-60 ton/h wood pelletizing plant (with ring die pellet machine) from chipping to packing is CE certified by SGS. Welcome to contact us to get the latest cost to setup a complete pelletizing plant for business or individual use!


Buy wood pellet production line from biomass pellet equipment manufacturer or supplier at factory price, get FREE technical instruction of biomass pellet process and business plan to set up biomass wood pellet production line project in Netherlands, German, Australia, Romania, United States, The Czech Republic, Guatemala, South Korea, Japan, Thailand, Indonesia, etc., at low cost.