NEWS
Industry News
Follow Richi Machinery trends, collect industry information, and discuss market focus.
Large Capacity Easy to Handle Alfalfa Pellet Process Production Line
Date: 2021-03-09 08:49:00
From: www.pellet-richi.com
Clicks:
---
I. Alfalfa
Alfalfa, also called lucerne, is a perennial flowering plant in the legume family Fabaceae. It is cultivated as an important forage crop in many countries around the world. It is used for grazing, hay, and silage, as well as a green manure and cover crop. The name alfalfa is used in North America. The name lucerne is the more commonly used name in the United Kingdom, South Africa, Australia, and New Zealand. Alfalfa is native to warmer temperate climates. It has been cultivated as livestock fodder since at least the era of the ancient Greeks and Romans. Alfalfa sprouts are a common ingredient in dishes made in South Indian cuisine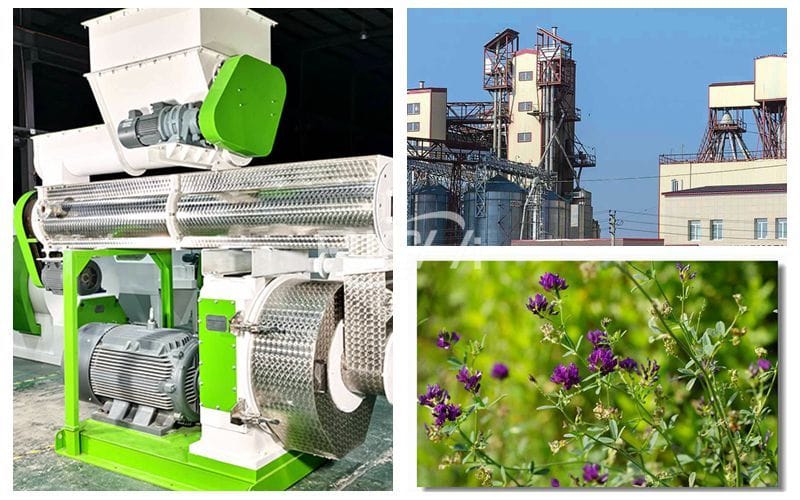 Alfalfa Pellet Processing Production Line
Today I will introduce you to the large capacity easy to handle alfalfa pellet process production line. The project has a total investment of 10 million US dollars and covers an area of 40,000 square meters. It is equipped with a grass pellet production workshop, a pellet product storage warehouse, an equipment warehouse, etc. Facilities and corresponding infrastructure such as water, electricity and roads. The alfalfa pellets produced are mainly raised for livestock and poultry, such as cattle, rabbits, sheep, horses, chickens and pigs.
II. Alfalfa Pellet Machinery and Equipment Manufacturers
The Editor Recommends Richi Machinery Equipment Co., Ltd. For the Better Domestic Pasture Pellet Machine Manufacturers. The Company Was Established in 1995 and Its Main Products Are Forage Pellet Machines, Various Animal Feed Pellet Machines, and Biomass Pellet Machines. The Company Has Passed Iso9001 International Quality Management System Certification and Ce Certification. There Are Currently More Than 2,000 Cases Worldwide for Reference.
III. Parameter of Richi Machinery Large Capacity Easy to Handle Grass/Alfalfa Pellet Machine
| | | | | | | |
| --- | --- | --- | --- | --- | --- | --- |
| Model | MZLH320 | MZLH350 | MZLH420 | MZLH520 | MZLH768 | MZLH858 |
| Anti-caking Feeder Power | 1.5KW | 1.5KW | 1.5KW | 2.2KW | 3KW | 3KW |
| Forced Feeder Power | 0.55KW | 0.55KW | 0.55KW | 0.75KW | 1KW | 1KW |
| Capacity | 600-800kg/h | 800-1000kg/h | 1.5-2t/h | 3-4 t/h | 5-7 t/h | 8-10t/h |
| Pellet Machine Power | 37kw | 55kw | 90kw | 110/132kw | 250/280kw | 280kw |
| Final Pellet | 6-12mm | 6-12mm | 6-12mm | 6-12mm | 6-12mm | 6-12mm |
IV. Processing Process of The Alfalfa Pellet Process Production Line
(1) when You Are Going to Pelletize, the First Step Is Drying Alfalfa Until the Moisture Is About 15%. The Wetter or Dryer Material Will Affect the Final Quality of Alfalfa Pellets. You Can Resort to a Drier, So That You Can Get the Ideal Moisture Quickly. Or You Can Dry It Naturally.
(2) the Second Step You Have to Do Is Grinding Alfalfa. The Original Form of Alfalfa Is Not Appropriate for the Alfalfa Pellet Machine to Process Directly. When You Grind It to Small Powders, the Pelletizing Rate and Pellets Quality Will Be Better.
(3) then the Most Important Step Is Coming. Put the Alfalfa to the Feeder of Alfalfa Pellet Mill, They Will Be Compressed to Columned Holes on the Die and Discharged From the Machine. Thus the Whole Procedure Is Finished. But Take Care of the High Temperature of Biomass Pellets. They Will Burn You if Any Direct Touch Happens. Wait a Minute, Then You Can Check Your Own Alfalfa Pellets.
Not Only Available for Alfalfa Pelletizing, Our Alfalfa Pelleting Machine Can Also Process Many Other Materials. If You Are Interested in Our Alfalfa Pellet Mills, Please Contact Us.
V. Why Choose Alfalfa For Making Animal Feed Pellets?
Alfalfa hay is the forage plant par excellence. It has great nutritional properties which makes it the perfect choice for making animal feed pellets.
High in nutrients: Alfalfa is an excellent source of vegetable protein, energy, vitamins, and minerals for animals including horse, pig and poultry. Besides, it is also rich in many other nutrients such as magnesium, molybdenum, sulfur, boron, calcium, potassium and phosphorus, etc. All these nutrients are good for animal healthy.
Good for animals' healthy: It is found that alfalfa has buffering effects on stomach acid, helping to reduce the incidence and severity of gastric ulcers.
Rich in fiber: For ruminant animals, the fiber in alfalfa is fermentable by the large intestine and their digestibility can be highly improved in this way. The intake of fiber in animal feed is based on the particle size of the feed pellets.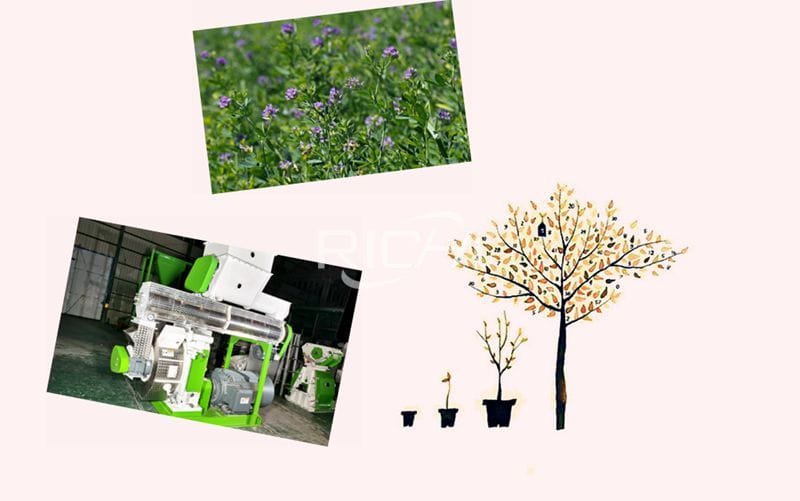 Grass/Alfalfa Pellet Machine
Related News
Alfalfa Feed Pellet Plant Build Alfalfa Pellet Production Line
The Benefits of Growing Lucerne Alfalfa to Dairy Cows
What is the Capacity of the Commercial Alfalfa Pallet Making Machine?
Annual Production of 20,000 Tons of Alfalfa Pellet Feed Production Line Project
The above is the article for you: Large Capacity Easy to Handle Alfalfa Pellet Process Production Line.
If you are interested in our products or project solutions, please contact us. We will give you the best product quality and the best price. Email: enquiry@pellet-richi.com
---