NEWS
Industry News
Follow Richi Machinery trends, collect industry information, and discuss market focus.
What Type Of Wood Pellet Machine Is Needed For 50t/d Pellets
Date: 2020-06-30 09:00:51
From: www.pellet-richi.com
Clicks:
I recently received a user inquiry and wanted to purchase a 50-ton/day wood pellet machine. The user does not know which device to choose. In fact, there are many wood pellet machine equipment, users can choose whether it is low match, standard or high match according to their own budget. The so-called low match is semi-automation + workers. Automation means that basically no people are needed, or very few workers are needed.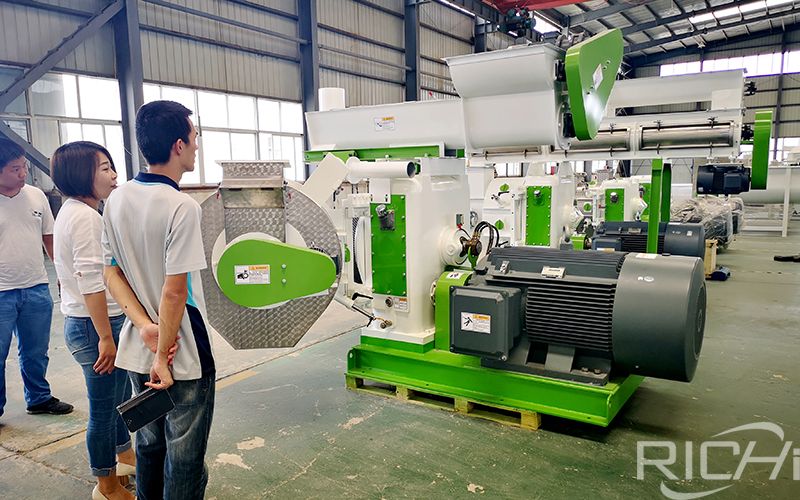 Wood Pellet Machine
What type of wood pellet machine is needed for 50t/d pellets
What are the 50 tons of wood pellet production line equipment per day? Generally, chippers, hammer mills, dryers, pelletizers, coolers, etc. will be needed. If it is a pellet machine, what type of wood pellet machine is needed for 50t/d pellets?
1. How Big is the Wood Pellet Factory
How much wood pellet plant is suitable for 50 tons of pellets per day? First, we need to convert the daily pellet output to the hourly output. Production of 50 tons of particles per day, if you work 8 hours a day, the output per hour is 6t/h; if you work 10 hours a day, the output per hour is 5t/h; if you work 12 hours a day, the output per hour is 4t/h; if you work 24 hours a day, the output per hour is 2t/h. The hourly output needs to be calculated according to the specific situation of the user. Overall, the specific output is within the range of 2-6t/h.
2. How Much Pellet Machine is Needed
The model of pellet machine is based on the output of wood pellet production line. If it is a 2t/h wood pellet production line, it needs to be equipped with MZLH520 2.0-2.5 t/h wood pellet machine; if it is a 4t/h wood pellet production line, it needs to be equipped with MZLH858 3-4.5 t/h wood pellet machine; if it is 6t/h Wood pellet production line requires two MZLH768 2.5-4 t/h timber pellet machines.
3. Production Process of Wood Pellet Plant
In order to get the final products with premium quality, we should pay attention to the manufacturing processes. Each step must be carried out with care, which involve wood grinding, drying, pelletizing, cooling, sieving and packaging.
There are several equipment that can be used for this step depending on the type of raw materials you have.
wood: If the raw materials are wood, pre-treating is necessary. First remove the bark from the wood log by the wood debarker. Then deliver the peeled wood to wood chipper, and get wood chips. Finally run through a wood hammer mill to reduce the particles to the required size. And the bark can be fed into the wood hammer mill directly.
wood chips or sawdust: They are mainly from the sawmills. And they can be fed directly into the wood hammer mill without first being chipped.
Drying
Maintaining an appropriate moisture level in your raw materials is vital for overall quality of the final pellets. For the wood, the required moisture content for pelletizing is about 15%. Choosing the right moisture content enables you to save on energy costs. It is advisable to use a rotary drum dryer for moisture reduction.
Pelletizing
This is one of the most important stages of making wood pellets, and the pellets are actually created in this step. In the pelletizing process, the sawdust is pressed into the holes of pellet mill die under extremely high pressure. The pressure creates heat that releases natural glue in the wood called lignin, which is naturally present in the wood acts as a glue to hold the pellet together. A blade is typically used to slice the pellet to a predefined length as it exits the die.
Notes: ring die pellet machine is for large scale production, and flat die pellet machine is for small scale production.
Cooling
Pellets are quite hot and fairly soft when they leave the die, and the shape is not well formed. Therefore, they must be cooled and dried before use or being packed in order to comply with the quality requirements. The final moisture content of wood pellets is no higher than 8%. A counter-flow cooler is used for this purpose.
Sieving
The sieving process is generally before the pellet packaging. After pelletizing, there are some superfine powders and coarse particles mixed with the final pellets. Thus a vibrating sieve is necessary here to filter out the unshaped materials from the finished products for reprocessing.
Packing
Once the pellets are formed and cooled, they are packaged in bags or stored in bulk. Please note that the pellets must be kept dry to prevent deterioration. Our semi-auto packing machine can packed the pellets according to your requirement.
4. Advantages of Wood Pellets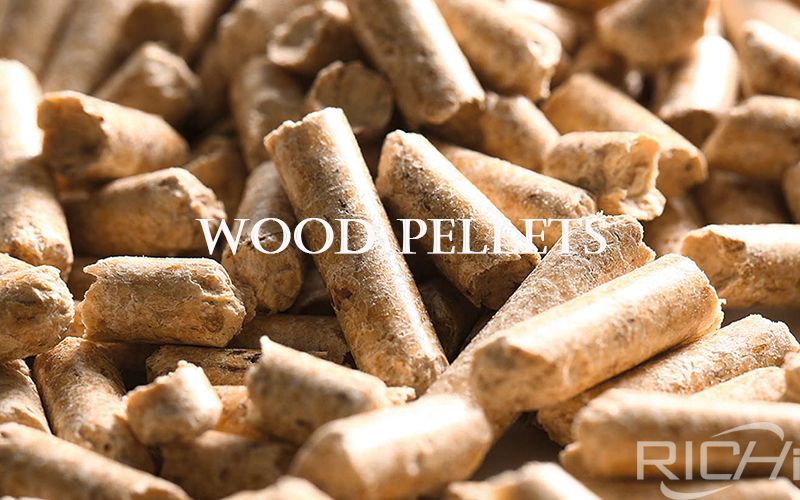 Wood Pellet
Renewable
Wood pellets have a decided advantage over fossil fuels: They are produced from renewable materials such as wood shavings and saw dust. Austria is among the most richly forested countries in Europe. Over 30 million solid cubic meters of wood grow each year. The timber stock in Austrian forests has been increasing for years despite intensive use for construction timber, paper manufacturing and as an energy source.
Sustainable
Investment in a new heating system is expensive and therefore should be profitable in the long run. Severe rise in prices and unpredictable risks characterize the market for fossil fuels. In comparison, the supply of wood from domestic forests is much more secure and less volatile. Austria produces more wood pellets solely as by-products of timber processing than are consumed in the country.
Cost-effective
The economic advantages of wood pellets are striking: Compared to fossil oil or natural gas, you can save about half of your expenses on fuel.
An important factor for the cost-effectiveness of wood pellet heating are the highly efficient heating devices that were developed for this solid fuel. Wood pellet central heating boilers, as well as wood pellet stoves, transform more than 90 % of the energy contained in the fuel into usable heat.
Essentially, it is this combination of low fuel costs and efficient heating devices that makes the use of wood pellets so cost-effective.
The above is the article for you: What Type Of Wood Pellet Machine Is Needed For 50t/d Pellets.
If you are interested in our products or project solutions, please contact us. We will give you the best product quality and the best price. Email: enquiry@pellet-richi.com