NEWS
Industry News
Follow Richi Machinery trends, collect industry information, and discuss market focus.
I Want to Build a Biomass Pellet Production Line
Date: 2020-06-12 08:21:11
From: www.pellet-richi.com
Clicks:
I want to build a biomass pellet production line with an output of 10 t/h per hour, please quote me as soon as possible! We know biomass is not a single raw material, so the biomass pellet production line is a general term for wood, wood chips, rice husk, straw, forage, alfalfa, and hemp pellet production lines. Because biomass pellets have the advantages of environmental protection, economy and easy storage, in these years, biomass pellet machine equipment and biomass pellet production lines have been increasingly favored and recognized by users. Users who consult the biomass pellet production line must understand what their raw materials are. Richi divides biomass into the following three categories for your reference only.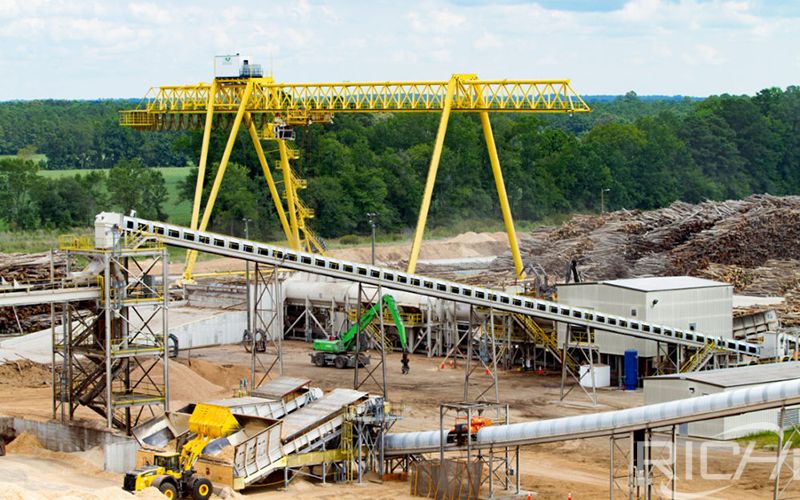 I Want to Build a Biomass Pellet Production Line
1. Forage alfalfa pellet production line
Forage, alfalfa, hemp, grass, hay, elephant trunk and other raw materials made of pellets also have two uses: one as pellet fuel and the other as animal feed pellets.
2. Rice husk straw pellet production line
The raw materials for this type of production line are rice husks, peanut husks, coconut husks, melon seed husks, wheat stalks, corn stalks, cotton stalks, etc. on the farm. Generally made into pellets for pellet fuel, of course, can also be used to feed pellets eaten by factory animals.
3. Wood sawdust pellet production line
Wood sawdust pellet production line is divided into production lines according to output. Generally, users with output less than 1t/h use flat die pellet production line. The 1t/h wood sawdust pellet production line uses the ring membrane pellet production line. The equipment of the production line includes not only pelletizers, but also chippers, pulverizers, dryers, coolers, dust removal and conveying equipment.
Why Biomass Pellet is More and More Popular?
The development of biomass pellet line benefits from the fast growing demands of biomass pellets. As a main substitute of fossil fuels, biomass pellets maintain the advantages of low carbon emission, good combustion performance, high density, easy transport, easy storage, etc. Therefore, biomass pellets have quickly grabbed the market, and more and more different industries start to use biomass pellets as their heating or power fuel.


Why Biomass Pellet is More and More Popular
1. Biomass Pellets for Thermal Power Plants
Despite of the industrial boilers, thermal power plants also use large quantity coal to create electric power. The carbon emission problem of thermal power plants also a serious environment pollution source. Right now, more and more thermal power plants turn their boilers into biomass pellet fired boilers, therefore, the demand of coal reduces, but the demand of biomass pellets increases quickly.
2. Biomass Pellets for Household Usage
Biomass pellet as a clean renewable fuel can not only used in industrial plants, but also used in each one's home. In the suburban areas, central heating system is too difficult to reach everyone's home. So, the people lived in suburban areas always built their own heating systems for their house. Before biomass pellets entered the market, people normally use coal or wood logs as the heating fuel. But as we all know, during the combustion of coal, it creates not only carbon emissions but also carbon monoxide which is a threaten to our lives. Although, wood logs are safer than coal, but the moisture content of wood logs is high, it need such a long time to dry naturally. If not, burning wet wood logs is very difficult and will create large amount of smoke.
3. Biomass Pellets for Industrial Plants
The development of biomass pellets is aimed to reduce carbon emissions of fossil fuels. In most industrial plants, coal is the main fuel of their boilers. With the development of biomass pellets, more and more coal fired industrial boilers turn into biomass pellet fired boilers or co-fired boilers. Therefore, biomass pellet demand grow fast.
Biomass pellet has high density, low moisture content and good combustion performance, which makes it a perfect fuel for our daily life. Biomass pellets can be used as the heating fuel for home heating system, cooking fuel and fuel for barbecue. With the increasing household biomass pellet market, there are a series of supporting equipment that use biomass pellets as the burning fuel, such as pellet stoves, pellet grills, etc.
4. Biomass Pellets for Pellet Stove Providers
Pellet stove is the newly developed home heating system use biomass pellet as the fuel. Many pellet stove providers provides complete pellet heating solutions. They will provide the biomass pellet fuel for the customers who bought their pellet stoves. In that way, there are two ways for them to get enough biomass pellets, first, buy biomass pellets from pellet wholesalers, second, they can produce biomass pellets for themselves.
As you can see, both industrial and residential biomass pellet demands grow fast, and more and more biomass pellet plants has established in recent years. Not only the industrial biomass pellet lines, with the increasing residential biomass pellets demands, more and more small scale biomass pellet lines will also receive a blooming period in suburban areas, as they can provides customized biomass pellet products for their clients.
The above is the article for you: I Want to Build a Biomass Pellet Production Line.
If you are interested in our products or project solutions, please contact us. We will give you the best product quality and the best price. Email: enquiry@pellet-richi.com