NEWS
Industry News
Follow Richi Machinery trends, collect industry information, and discuss market focus.
Equipment for Making EFB Pellets
Date: 2020-04-13 09:06:39
From: www.pellet-richi.com
Clicks:
Since the EFB is large in size and high in moisture content, it will go through a series of processes such as crushing, drying, pelletizing, cooling and packing in order to get the final quality EFB pellet products.
▷ EFB Shredder: EFB shredder is the equipment to process palm fruit bunch into palm fiber, which is easier to be dried and finely crushed in the following processes. Thus the final EFB pellets quality can be guaranteed.
▷ Rotary Drum Dryer: The proper moisture content for pelletizing is 12-15%, while the moisture content in EFB is about 67%. Therefore, drying process is necessary for EFB pellets production. Special designed for drying the EFB fiber, our rotary drum dryer is high in efficiency but low in energy consumption.
▷ EFB Fiber Crushing Machine: EFB fiber crushing machine is designed for crushing the EFB fiber into small pieces, and the machine is the necessary equipment for EFB fiber pelletizing. Usually the machine can be combined with the EFB shredder machine.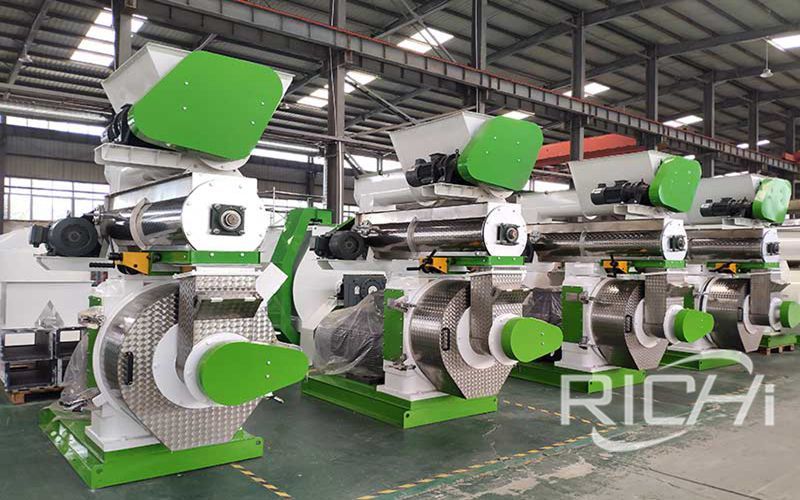 Equipment for Making EFB Pellets
▷ EFB Pellet Machine: Generally, the EFB pellets production is in large scale. Then our ring die EFB pellet machine is the most suitable machine for compressing the high density EFB fiber. Adopt high-precision gear driving, the output is improved by about 20% compared with the belt drive one. Imported high-quality bearings and oil seal are adopted to ensure efficient, stable and low-noise operation.
▷ EFB Pellet Cooler: EFB pellets discharged from pellet mill are of high temperature about 65℃-90℃ as well as high moisture content of 17%-18%. Pellets will shock if the temperature or humidity is too high. Our counter current pellet cooler is used to remove pellet heat as well as the moisture content to ensure pellets quality and shelf-life.
▷ EFB Pellet Packaging Machine: After cooling, the packing process is necessary to protect the EFB pellet from damp and dust. Automatic EFB pellet packing machine is advanced designed and manufactured with PLC controlling technology. Equip with accurate measure instrument, it has high weighing precision, bagging speed and stable performance.
Notes: Raw materials should be sufficient to ensure the continuity of pellet production. So the location of the EFB pellet plant should be convenient for the raw materials transportation.For more information, please click:Palm Fiber Pellet Machine
The above is the article for you: Equipment for Making EFB Pellets.
If you are interested in our products or project solutions, please contact us. We will give you the best product quality and the best price. Email: enquiry@pellet-richi.com