Import a Pellet Making Machine That Can Make Sheep Feed and Cattle Food Pellets to New Zealand
Question:
"I would like to import a pellet making machine that can make sheep feed and cattle food pellets to new zealand "

Richi Machinery Engineer Li Answered:
Dear Sir or Madam
It is a ring die pellet machine with large output, high efficiency, stable performance and CE ISO certification. Our feed pellet machine can produce all kinds of animal feed, including fish and shrimp feed and pet feed. At present, our equipment is exported to 113 countries. If you are interested in our equipment, we are happy to share our project cases for you.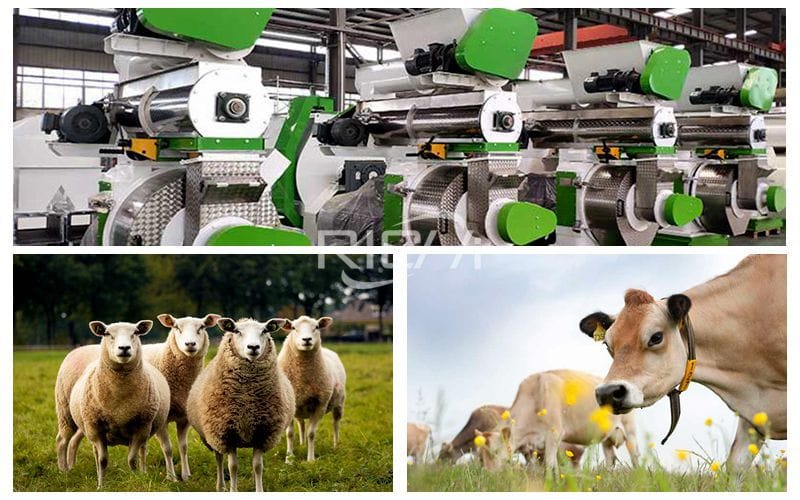 Cattle/Sheep Feed Pellet Machine Parameter
| | | | | | | |
| --- | --- | --- | --- | --- | --- | --- |
| Model | Capacity(TPH) | Main Motor Power(kw) | Feeder Motor Power(kw) | Conditioner Power(kw) | Dia.of Ring Die(mm) | Final Pellet(mm) |
| SZLH250 | 1-2 | 22 | 0.75 | 1.5 | 250 | 2~12 |
| SZLH320 | 3-4 | 37 | 1.5 | 2.2 | 320 | 2~12 |
| SZLH350 | 5-7 | 55 | 1.5 | 3 | 350 | 2~12 |
| SZLH420 | 8-12 | 110 | 1.5 | 7.5 | 420 | 2~12 |
| SZLH508 | 10-18 | 160 | 2.2 | 11 | 508 | 2~12 |
| SZLH558 | 15-25 | 180/200 | 2.2 | 11 | 558 | 2~12 |
| SZLH558D | 14-22 | 160/180/200 | 1.5 | 7.5 | 558 | 2~18 |
| SZLH678 | 20-30 | 220/250 | 2.2 | 11 | 678 | 2~12 |
| SZLH678D | 15-25 | 200/220/250 | 2.2 | 11 | 673 | 2~18 |
| SZLH768 | 25-40 | 280/315 | 2.2 | 11 | 768 | 2~12 |
| SLZH858 | 25-42 | 280/315 | 2.2 | 15 | 858 | 2~18 |
The above is the article for you: Import a Pellet Making Machine That Can Make Sheep Feed and Cattle Food Pellets to New Zealand. If you are interested in our products or project solutions, please contact us. We will give you the best product quality and the best price. Email: sales@cnrichi.cn