Applications Of Small Animal Pellet Machine
Our high quality flat die feed pellet mill can make good feed pellets with smooth surface and appropriate hardness, and it is the best choice for feedstuff production.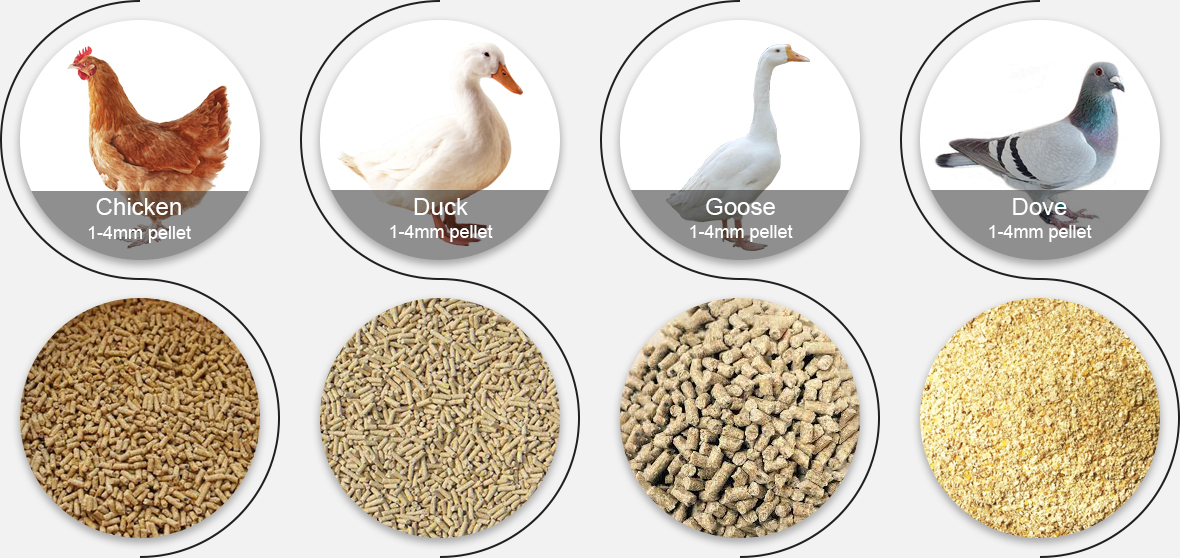 Significance Of Using Animal Feed Pellet Machine
1. Making feed materials into compressed feed pellets can combine together all the nutritional ingredients that animal growth needs, prevent picky animals, in order to maximize the economic benefits.
2. In addition, making into feed pellets can also save feeds. For example, if you feed sheep with powder fodder, it is easily scattered, which can make sheep picky eaters. What's more, the wind will also blow up the powdery feed, causing waste, and the utilization rate of feed is only 92%. But if made into pellets, the sheep are not able to choose what they'd like to eat, thus the utilization rate of feed can reach 99%, which makes a 7% Utilization Rate of Feed Increase. Other animals are the same.
3. By producing your own feed pellets with feed pellet machine, you can save a sum of money on purchasing the made-up feed pellets, and you can adjust the feed pellets components in accordance with animal growth phases.
4. Feed pellets can save man power. For example, one worker can feed about 28 sheep with mixed feed; if with pellets feed, one worker can feed 36 sheep. So the labor efficiency can increase 28.57%
5. Feed pellets have good palatability. After processing into pellets, the feed can increase fragrance, stimulate the appetite of the animals, increase feed comsumption, and improve the feed digestibility.
6. Feed pellets can promote the growth and development of livestock and poultry animals. By processing into pellets with smooth surface, high hardness, curing depth, animals love to eat, chew adequately, digestion and utilization rate is high, which promotes animal growth and development of livestock and poultry.
7. Feed pellets have longer storage time. The powdery feed itself contains about 15% moisture, and it is easy to absorb moisture, go bad and caking, so the feeding value is decreased. After the pellet feed is processed into pellets, the moisture is partially lost, and the processed granules contained about 13% of the moisture, which accords with the standard requirements. Under the good storage conditions, the feed pellets can normally store for 3~4 months, and will not deteriorate, which is 2~3 months longer than the powder feed.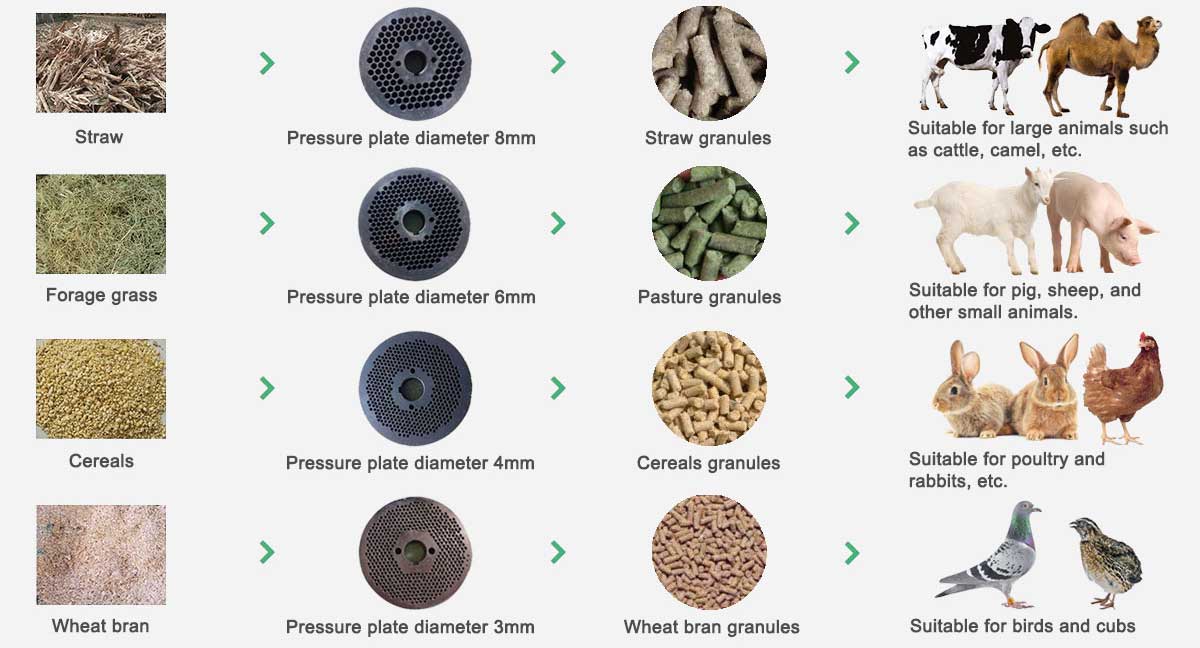 1. Less investment, simple operation, easy maintenance, high pelleting rate; Simple structure, wide applicability, cover small space, low noise;

2. Powder feed, no grass meal (or little) liquid can be added for granulation.Moisture same as the raw materials, more conducive to storage.

3. Figures of pellets from pellet machine: high hardness, smooth surface, fully internal curing degree; can improve the digestion and absorption of nutrition, and can kill pathogenic microorganism and parasite. The pellets are suitable for feeding rabbit, fish, duck and experimental animals, higher economic benefit can be obtained than mixed powder feed.

4. There are more than 20 kinds of dies, suitable to make pellets from different raw materials.

5. Adapt to different materials, guarantee the suppression effect. Sawdust, corn straw takes a lot of pressure, in similar granulating equipment, roller parts is the center of the whole equipment parts, and adopts high quality alloy steel, improve the service life of the roller.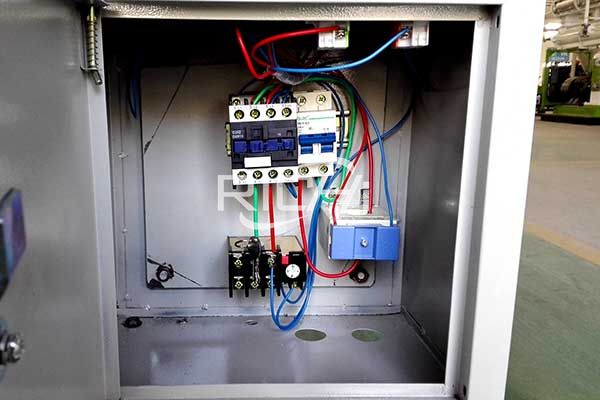 Working Principle Of Small Animal Pellet Machine
When you start the machine, the roller or die begin to rotates. They move relatively and form strong pressure and friction.When you feed biomass materials through the hopper, they fall on the flat die and get compressed by the roller, then they are squeezed into the holes on flat die, where they are formed into solid cylindrical pellets.Under the flat die there is a slicer cutting them into certain length. Then the pellets falls down and come out through the outlet.
| | | | | |
| --- | --- | --- | --- | --- |
| Model | Capacity(KG/H) | Power ( KW ) | Pellet Size ( mm ) | Dimensions ( cm ) |
| FDF-125A | 80-100 | 3 | Φ2.0 - Φ6.0 | 66*35*120 |
| FDF-150A | 90-150 | 4 | Φ2.0 - Φ6.0 | 66*35*120 |
| FDF-125B | 80-100 | 3 | Φ2.0 - Φ6.0 | 63*27*75 |
| FDF-150B | 90-150 | 4 | Φ2.0 - Φ6.0 | 65*27*78 |
| FDF-210 | 200-300 | 7.5 | Φ2.0 - Φ6.0 | 85*35*91 |
| FDF-230 | 350-450 | 11 | Φ2.0 - Φ6.0 | 98*38*94 |
| FDF-260 | 400-500 | 15 | Φ2.0 - Φ6.0 | 108*42*104 |
| FDF-300 | 500-700 | 18.5 | Φ2.0 - Φ6.0 | 130*51*121 |
| FDF-360 | 700-800 | 22 | Φ2.0 - Φ6.0 | 140*56*160 |
| FDF-400 | 900-1200 | 30 | Φ2.0 - Φ6.0 | 150*61*180 |