Applications Of Diesel Flat Die Pellet Machine
Diesel flat die feed pellet mill is specially designed for making small scale feed pellets for pig, rabbit, cattle, chicken, sheep, etc. Its small size and diesel engine make it movable and very convenient to move around. It can process corn, alfalfa, wheat, rice, oil cake, etc. into granule at one time. Nutrients can also add to the raw materials. Therefore, with a feed pellet mill, you can make your own feed pellets with your special ingredients.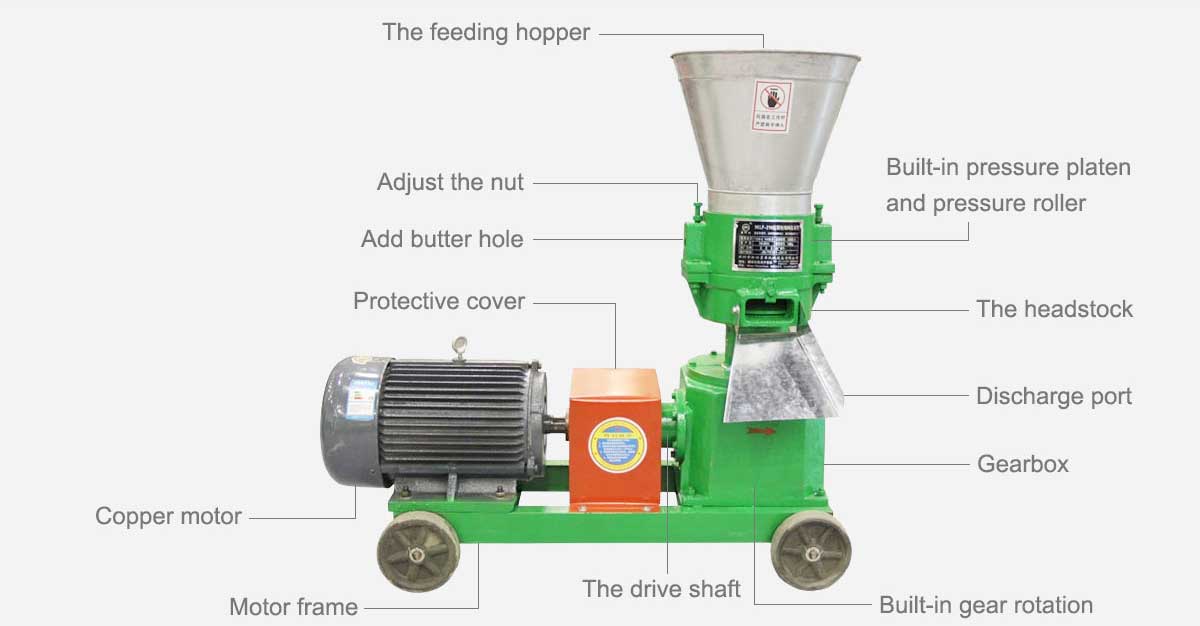 Structure analysis of flat die pellet mill
Steps for Feed Pellets Processing

1. The raw materials should be ground into small particulars by a hammer mill.
2. A pellet making machine shall be adopted to pelletize the materials.
3. After pelleting, the raw materials become pellets. Then the pellets should be cooled by a cooler.
4. If the pellets are for commercial use, pellets packing machine shall be also be used to weigh and pack the pellets.
5. After these steps, the pellets can be stored at dry place.

Diesel Flat Die Feed Pellet Mill Application
* Diesel flat die feed pellet mill is especially applicable to the owners of small feed-processing factory and farm-holders to process the feed for rabbits, chicken, pig, sheep and so on.
* With Diesel flat die pellet mill you can make bedding pellets for animal stalls from cardboard.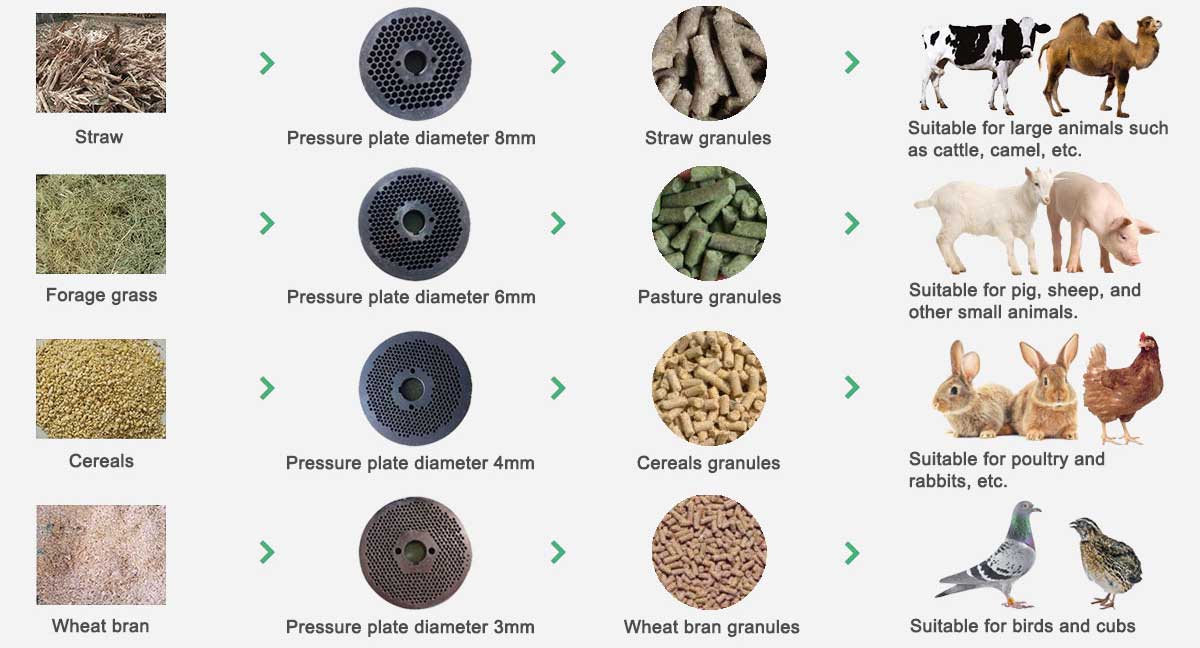 Animal feed pellet machine application
1. Driven by a diesel engine makes feed pellets production available in the rural area with shortage supply of electricity.

2. Equipped with the clutch and accelerating-decelerating device to change its speed.

3. Visible chamber design makes the pelleting process clear and visible, so it is convenient to solve problems in time.

4. Adopt screw-center adjusting pressure structure which makes flat die pellet mill more practical.

5. Simple structure, low consumption, easy operation and maintenance.

6. Can make different feed pellets to meet different customers' requirements.

7. With adjustable compression rate, the flat die pellet mill can meet different pelletizing requirements and is available to press coarse materials.

8. Widely used in small aquaculture, grain feed factory, farm, poultry farm, as well as individual farmers.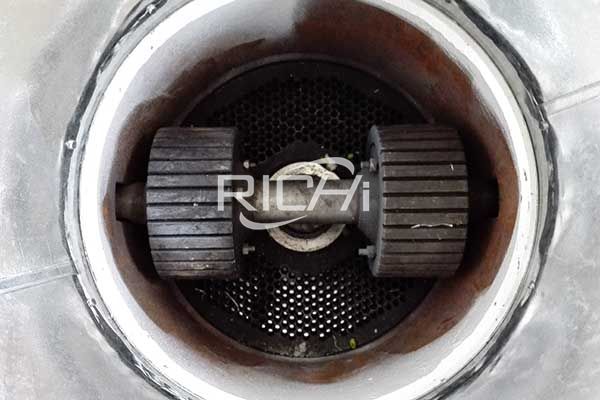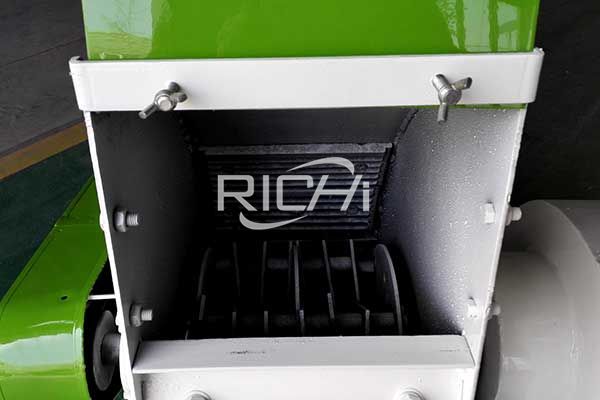 Working Principle Of Diesel Flat Die Pellet Machine
When the roller driven feed pellet mill is in operation, the flat die is totally stationary, while the rollers are rotating and revolving on its own shaft. The relative motion between the roller and flat die will compress the materials into die holes. After a certain time, they are squeezed out in the cylindrical form. Cutters on the other side of the flat die will cut the exposed cylinder into regular length, then the feed pellets are discharged outside.
| Model | Capacity(TPH) | Main Motor Power(kw) | Pellet Size ( mm ) | Dimensions ( cm ) |
| --- | --- | --- | --- | --- |
| FDF-125A | 80-100 | 3 | Φ2.0 - Φ6.0 | 66*35*120 |
| FDF-150A | 90-150 | 4 | Φ2.0 - Φ6.0 | 66*35*120 |
| FDF-125B | 80-100 | 3 | Φ2.0 - Φ6.0 | 63*27*75 |
| FDF-150B | 90-150 | 4 | Φ2.0 - Φ6.0 | 65*27*78 |
| FDF-210 | 200-300 | 7.5 | Φ2.0 - Φ6.0 | 85*35*91 |
| FDF-230 | 350-450 | 11 | Φ2.0 - Φ6.0 | 98*38*94 |
| FDF-260 | 400-500 | 15 | Φ2.0 - Φ6.0 | 108*42*104 |
| FDF-300 | 500-700 | 18.5 | Φ2.0 - Φ6.0 | 130*51*121 |
| FDF-360 | 700-800 | 22 | Φ2.0 - Φ6.0 | 140*56*160 |
| FDF-400 | 900-1200 | 30 | Φ2.0 - Φ6.0 | 150*61*180 |